Main content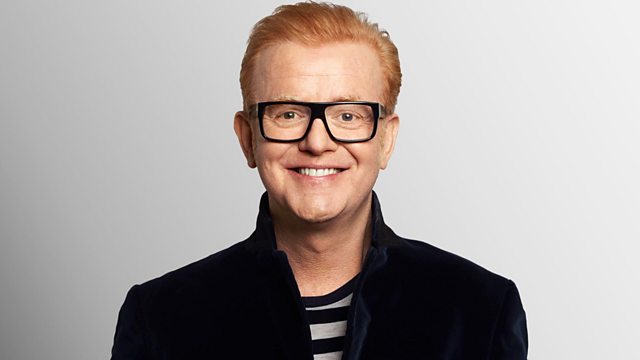 Andrew Marr and Britain's most prolific Extra
Chris Evans presents a fully interactive show for all the family, featuring music, special guests and listeners on the phone.
Chris speaks to Andrew Marr about his new BBC Four programme Sleuths, Spies and Sorcerers, what it takes to write the perfect fiction and how we can all make time to read. Chris meets the extra John Walker, who's appeared in over 200 film and TV shows including Doctors and Gulliver's Travels starring Jack Black. Plus Mike Williams is joined by gold medallist Helen Glover ahead of today's Rio 2016 parade in Manchester and Father Brian D'Arcy has a Pause for Thought.
Last on
Clips

Music Played
Kenny Loggins

Footloose

Footloose (Original S/Track).
CBS.

Pretenders

Holy Commotion

Rose Royce

Car Wash

Now 12 (Various Artists).
Now.

Paul Heaton

&

Jacqui Abbott

The Austerity Of Love

(CD Single).
Virgin EMI Records.

Zac Brown Band

Jump Right In

(CD Single).
Southern Ground.
1.

Elvis Presley

&

Royal Philharmonic Orchestra

A Big Hunk o' Love

The Wonder Of You.
Sony Music.

Bee Gees

You Win Again

Bee Gees - Their Greatest Hits.
Polydor.

George Ezra

Cassy O'

Wanted On Voyage.
Columbia.

The Tokens

The Lion Sleeps Tonight

Rediscover The 50's - Here Comes Summ.
Old Gold.

Emeli Sandé

Hurts

(CD Single).
Virgin Records.

Sad Café

Every Day Hurts

The Gold Album (Various Artists).
The Hit Label Ltd.

The Primitives

Crash

Into The Eighties - Various Artists.
Global Television.

Paolo Nutini

10/10

Sunny Side Up.
Atlantic.
1.

Harry Belafonte

Jump In The Line

Tom Odell

Here I Am (Radio 1's Big Weekend 2016)

(CD Single).
Columbia.
001.

Elvis Costello

&

The Attractions

Watching the Detectives

Elvis Costello & Attractions- The Man.
Imp Records.

OneRepublic

Wherever I Go

The Hollies

Just One Look

The Hits Of 1964 (Various Artists).
MFP.
20.

Cream

White Room

Rediscover The 60's-With A Little Hel.
Old Gold.

Madonna

Beautiful Stranger

Madonna - Greatest Hits Volume 2.
Maverick.
13.

Electronic

Getting Away With It...

(CD Single).
Factory Records.

The Smiths

How Soon Is Now?

Drive Time 2 (Various Artists).
Dino.

Melanie C

Anymore

(CD Single).
Red Girl Records.

Cat Stevens

Tea For The Tillerman

Tea for the Tillerman.
Universal Island Records.

Ed Sheeran

&

Rudimental

Bloodstream

(CD Single).
Atlantic.
002.
Pause for Thought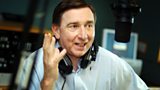 From Father Brian D'Arcy, a Catholic Passionist priest:
In Ireland "putting an upstart back in their box" is almost a national sport.  Whether it's sportspeople, musicians, writers… Perhaps it's the same here. 
I don't like it.
Life is hard enough without those cruel, belittling, negative asides. For myself, I don't need others to put me down, because a still small voice within my own head does that for me.
A good question to ask is: Does your inner voice fill you with positive energy or is it just another subconscious toxic destroyer?
The Bible insists that we reap what we sow; if I plant weeds, I'll get weeds; if I plant good seeds I'll have a good harvest. Likewise the inner voice plants good thoughts and bad.
I'm told we can have 50,000 thoughts a day. That's impressive. But they remain a jumbled mess, unless I pick the best of them. I can either choose positive, uplifting thoughts, or negative demeaning thoughts. It's up to me. That inner voice is either my best friend or my worst enemy.
And here's the point: if I've no enemy on the inside, the enemy on the outside doesn't matter. Sports coaches say that it's not aptitude that matters most, it's attitude.
In spiritual direction we put it differently. We say "The you you see is the you you'll be."
Worry is another sign of negativity. Worry is like spending your life working a rocking chair – you expend mighty energy going nowhere.
For lasting inner peace, don't download those fears and anxieties which cripple you. Download instead thoughts and plans that help you to live a fulfilled life. Control the controllables and enjoy the results.
The greatest boxer of all time, Muhammad Ali, overcame the crippling negativity of his upbringing with the mantra "I am the Greatest". He repeated it over and over to himself and to anyone who'd listen until he believed it. That's how he became the greatest. Change happens from the inside out.
In God's eyes I am the greatest and so are you. I believe that totally. "Cast all your worries on the Lord because he'll take care of you" (1Peter 5:7)
Broadcast