Main content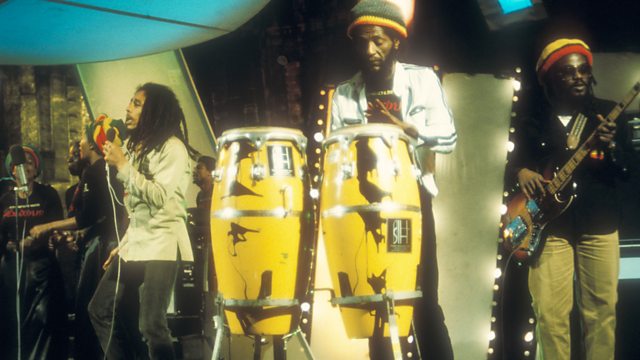 The Wailers: Catch a Fire
Series focusing on albums that have influenced the course of music. This edition looks at the 1973 Wailers album Catch a Fire, which brought international fame to Bob Marley.
This edition looks at the making of the 1973 Wailers album, Catch a Fire, the album that brought international recognition to Bob Marley.
Already big names in their native Jamaica, it took until this release for Marley and Co to finally go global. It features interviews with key musicians and engineers who helped make the album, as well as record label boss Chris Blackwell, who talks about how the band had song-writing and performing skills in abundance but needed to be put through the equivalent of a "rock blender" to make them palatable to a wider audience. Through first-hand accounts, this programme tells how they did just that.
The programme takes a track-by-track look at the making of the record. In London, the producer Chris Blackwell and original engineer Tony Platt lead viewers through the original multi-tracks of Slave Driver, Concrete Jungle, Stir it Up, Rock It Baby and others. Rabbit Brundrick (keyboards) and Wayne Perkins (electric guitar) tell how they were brought back in to add the rock and roll parts to the songs. It is illustrated with archive footage from the Wailers in concert, early interviews with Bob Marley and Peter Tosh, plus television performances and rare home movies - all of which provide a unique insight into the process behind the recording of this landmark album.
Programmes, playlists and features charting the history of pop music across the decades.
Credits
| Role | Contributor |
| --- | --- |
| Producer | Jeremy Marre |
| Series Producer | Nick De Grunwald |
Featured in...
Charting the history of pop music across the decades starting with the mid-50s to mid-60s