Main content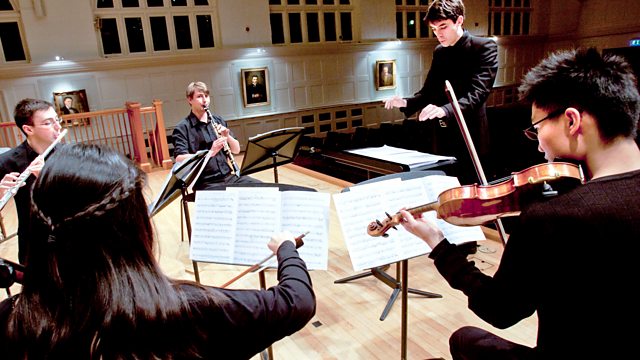 Explore Ensemble, New Releases, Laurence Crane, Håkon Stene
Robert Worby presents Explore Ensemble at the 2016 Principal Sound Festival. Plus Modern Muses, with Laurence Crane and Hakon Stene, and Matthew Kaner reviewing new music releases.
Presented by Robert Worby
Including music from the Principal Sound festival performed by Explore Ensemble, the latest in Hear and Now's Modern Muses series with composer Laurence Crane and percussionist Håkon Stene, and Radio 3's Embedded Composer in 3, Matthew Kaner, joins Robert to review new music releases.
Enno POPPE: Gelöschte Lieder
FELDMAN: Spring of Chosroes
GRISEY: Talea
ROMITELLI: Domeniche alla periferia dell'impero
Explore Ensemble
Nicholas Moroz & Arne Gieshoff (artistic directors)
New releases with Matthew Kaner:
Mark BOWDEN: Lyra - 3rd movement (extract)
Oliver Coates (cello)
BBC National Orchestra of Wales
Grant Llewellyn (conductor)
NMC D214
Hans ABRAHAMSEN: Three Little Nocturnes - no.3
Arditti Quartet
Frode Haltli (accordion)
ECM 2496
Angharad DAVIES/Tisha MUKARJI: For Lucio II
Angharad Davies (violin)
Tisha Mukarji (piano)
ANOTHER TIMBRE AT99
Peter ADRIAANZ: Enclosures - no.1
Trio Scordatura
ERGODOS ER25
Image (c) Shelia Burnett.
Stockhausen's Gruppen – What's the Big Deal?