Main content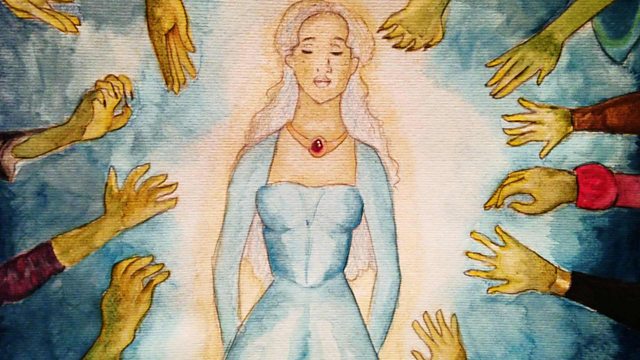 Part 2
Neil Gaiman's fantasy novel is adapted in two parts by Dirk Maggs. Realising the fallen star is in danger from dark forces, Tristran sets out to rescue Yvaine.
Challenged to retrieve a fallen star by the beautiful Victoria Forester, to whom he has lost his heart, Tristran Thorn leaves his home in the sleepy English village of Wall and crosses into the mysterious and magical land of Faerie. But when Tristran locates the fallen star he discovers it is no mere meteorite, but an injured young woman, Yvaine.
Tristran, however, is not the only person to have seen and be in pursuit of the fallen star. Deep in Faerie, Morwanneg the witch queen, is also hunting the star, whose heart she plans to cut out to restore youth to herself and her sisters.
High on Mount Huon, Primus, Tertius and Septimus, the three living heirs to the realm of Stormhold, seek out the star to claim the right to their recently deceased father's kingdom, and each will stop at nothing - not even murder - to ensure they are the only brother left in the running for the throne!
With Yvaine's life in danger, she and Tristran find themselves embarking on an extraordinary adventure, full of danger and intrigue as they flee across Faerie. Encountering Little Hairy Men, witches, and lightning-hunting sky pirates along the way, Tristran is about to uncover the secret to his own identity and a fate beyond his wildest dreams at his journey's end.
This two-part dramatisation of Neil Gaiman's spellbinding novel is narrated by Eleanor Bron and stars Matthew Beard (The Imitation Game, An Education, One Day) as Tristran and Sophie Rundle (Peaky Blinders, Dickensian, Happy Valley, Episodes) as Yvaine.
Dramatised by ..... Dirk Maggs
Sound Design ..... Wilfredo Acosta and Dirk Maggs
Directed by ..... Dirk Maggs and Heather Larmour
Producer ..... Heather Larmour.
Last on
The moment Tristan (Matthew Beard) decides to leave his village to retrieve a fallen star

By Strange and Norrell writer Susanna Clarke set in Gaiman's mysterious land of Faerie
Credits
| Role | Contributor |
| --- | --- |
| Narrator | Eleanor Bron |
| Author | Neil Gaiman |
| Tristran | Matthew Beard |
| Yvaine | Sophie Rundle |
| Director | Dirk Maggs |
| Adaptor | Dirk Maggs |
| Director | Heather Larmour |
| Producer | Heather Larmour |
Broadcasts