Main content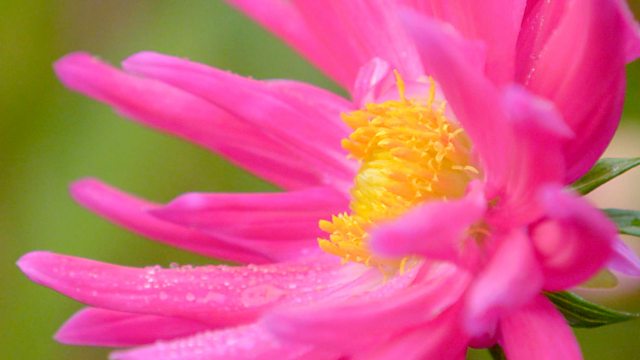 Gardening magazine. Monty catches up with seasonal jobs at Longmeadow this week when he divides some perennials and plants alpines for spring colour.
Monty catches up with seasonal jobs at Longmeadow this week when he divides some perennials and plants alpines for spring colour. He also travels to Dublin to meet Helen Dillon to find out why she is planning to leave her world-famous garden after decades of honing it to perfection.
In Scotland, Joe Swift begins his quest to find out why we should rekindle our love for rock gardens, while Frances Tophill perches precariously on a cliff in Cornwall as she joins a couple who have created a garden in extreme conditions.
Adam Frost continues his progress on designing his garden in Lincolnshire and Flo Headlam transforms a shady and neglected front garden in London. And garden designer Mark Lane shares his passion for colour in his garden in Kent.
Nepeta
Some species of Nepeta contain the chemical Nepetalactone (found in highest quantities in Nepeta cataria).  When cats are exposed to its smell they can have some very strange reactions ranging from chin and cheek rubbing to head-over rolling and body rubbing!  It's thought that the chemical enters the cat's nasal tissue sending signals to its brain resulting in a response similar to the response to natural sex pheromones.  The effect can last for around ten minutes.  Nepetalactone also has documented effects on lions, tigers and leopards.  It can also be used as a mosquito and fly repellent.  It's thought not to affect humans in the same way as cats, as the human brain is physiologically different from that of a cat.
Alpine plants and bulbs in Monty's trough
Androsace studiosorum 'Doksa'
An easy to grow evergreen perennial.  Gren-grey hairy leaf rosettes with umbels of large pale pink flowers in April.

Androsace sarmentosa
Small loose rosettes of hairy leaves, spreading by runners.  Pink flowers with a yellow eye.

Armeria maritima 'Dusseldorfer Stolz'
Low tufted mound of grassy green leaves with deep pink pompon flowers for many weeks from late spring, usually repeat flowering in the autumn.

Erodium 'Flore pleno'
Clump forming plant with scallop shape leaves and double pink flowers from late spring until autumn.

Erodium x kolbianum 'Natasha'
Compact silver-grey leaves and numerous white flowers veined pink with two distinctive dark maroon 'eyes'.  Flowers April to June and beyond if conditions are right.

Saxifraga 'Whitehill'
A slow growing, cushion forming evergreen with small rosettes of leaves and arching stems with tiny white flowers in late spring.

Sedum cauticola 'Lidakense'
Trailing perennial with purple-tinged stems and opposite rounded to spoon-shaped grey-green leaves up to 2.5 cm (1") long.  Star shaped purplish-pink flowers early autumn, flowers age to carmine red.

Tulipa iliensis
Flower petals lemon-yellow stained crimson on the exterior with a hint of sage green at the base.  Flowers March.

Narcissus assoanus
A true miniature jonquil with solitary, fragrant, rich yellow flowers and glaucous long narrow leaves.  Flowers March.
Flo Headlam's plant list
Hedging material
Prunus lusitanica

Plants in the front garden area
Pittosporum tenuifolium 'Tom Thumb'
Pittosporum tenuifolium 'Tandra Gold'
Polystichum polyblepharum
Alchemilla mollis
Liriope muscari 'Moneymaker'
Heuchera 'Midnight Rose'
Sarcocca confusa

Window box plants
6 x Hedera helix (variegated/trailing form)
6 x Calluna vulgaris 'Loki'
4 x Cyclamen (Purple)
Credits
| Role | Contributor |
| --- | --- |
| Presenter | Monty Don |
| Presenter | Adam Frost |
| Presenter | Florence Headlam |
| Presenter | Joe Swift |
| Presenter | Frances Tophill |
| Executive Producer | Paolo Proto |
| Series Producer | Chloe Rawlings |