Main content
Saltmarsh lamb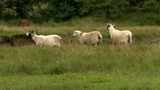 Dougie is on the Argyll coast to meet a young farmer who is using his natural environment to enhance the flavour of his lamb. Fraser Brown runs Shellfield Farm at Glendaruel. Part of the farmland covers coastal salt marshes. He grazes his sheep on the tidal marshes to give them essential salts and minerals. The sheep love the saltmarshes and their meat has a unique taste.
Mull of Galloway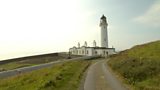 Sarah is on the most Southerly point of Scotland – The Mull of Galloway. The tiny spit of land, which includes the Mull of Galloway Lighthouse, has been the subject of Scotland's smallest community land buyout.
State of Nature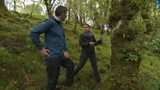 Dougie visits a unique environment near Balmacara on Wester Ross which has an amazing array of plant species. He's there to discuss a new report on the health of Scotland's native flora and fauna with Deborah Long from Plantlife Scotland.
House of Dun Kitchen Garden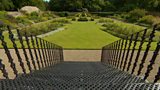 Euan is on the Montrose Basin to visit the Georgian Mansion, the House of Dun. The house has a kitchen Garden which fell into disrepair but is not being used by Voluntary Action Angus to help people from the community to recover from a wide range of mental health conditions.
Dougie and Nick's Culinary Tour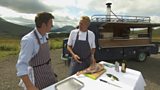 This week Nick and Dougie take the Landward food van to one of the most scenic laybys in Scotland on the A82 near Bridge of Orchy. Nick shows Dougie how to bone-out and cook a piece of Saltmarsh Hogget produced by Fraser Brown in Argyll.
Saltmarsh Lamb recipe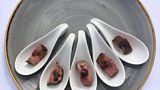 Ingredients
1 leg Scottish salt marsh lamb, boned out
(ask your butcher to bone the leg into 4 'chumps')
2 sprigs fresh rosemary
2 cloves garlic, peeled and crushed
olive oil
butter
Method
Ask the butcher to create lamb 'chumps': individual muscles in the leg. One chump should serve two people.
Heat the oven to 200C.
Heat an ovenproof frying pan on a high heat and add a tablespoon of olive oil. Pan fry the chumps in the oil, turning, until coloured (a minute). Add a knob of butter and baste the meat for another minute or so to brown further. Add the crushed garlic cloves and a couple of sprigs of rosemary and cook for a further minute.
Place the pan in the oven (or transfer the contents to a meat tray) and pop in the oven for 8 minutes. Remove (watch the hot handle), and rest the meat for 10 minutes in a warm place. Carve the rested meat into thin slices and toss the slices in the meat juices. Serve with your favourite veg.
Credits
| Role | Contributor |
| --- | --- |
| Presenter | Dougie Vipond |
| Presenter | Nick Nairn |
| Presenter | Sarah Mack |
| Series Producer | Simon Cousins |