Main content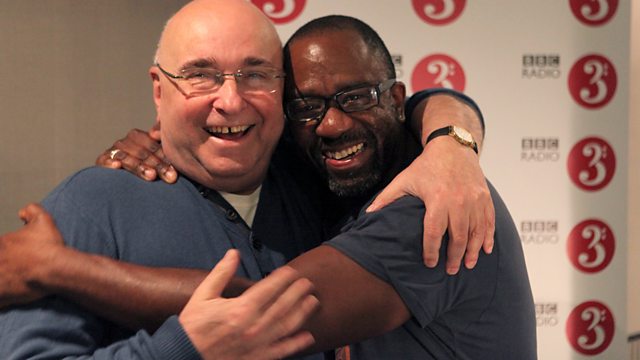 Sound Frontiers: Thursday - Rob Cowan with Lucian Msamati
Rob Cowan presents live from Southbank Centre. Including Music in Time: Palestrina: Tu es Petrus; Artist of the Week: Michael Gielen, featured conducting Beethoven's Symphony No 4.
9am
My favourite... Brahms Intermezzos. Such is his love of Brahms' piano music that Rob struggled to find his favourite intermezzos, but eventually chose a selection primarily from the Opp. 117-119 collections. They are performed by such varied Brahms interpreters as Steven Kovacevich, Clifford Curzon, Eugene Istomin, Evgeny Kissin and Glenn Gould, all of whom bring their unique, individual voices to the poetry of Brahms' piano-writing.
9.30am
Take part in today's musical challenge: can you work out which two composers are associated with a particular piece?
10am
Rob's guest is the actor Lucian Msamati. Best known for his role as Salladhor Saan in Game of Thrones, in 2015 Lucian he became the first black actor ever to play Iago in a Royal Shakespeare Company production of Othello, alongside Hugh Quarshie as Othello. In the same year he made his directorial debut with Boi Boi Is Dead. His stage work includes Clybourne Park and the London riots play Little Revolution, while recent TV credits include The No. 1 Ladies' Detective Agency, Ashes to Ashes and Doctor Who. Throughout the week, Lucian shares his favourite pieces of classical music with Rob and on Friday he appears live in the Essential Classics pop-up studio at London's Southbank Centre.
10.30am
Power of Three - the next episode in a 70-part daily series of pioneering sounds from the BBC Third Programme and Radio 3 archives presented by David Hendy.
Followed by
Music in Time: Renaissance
Today Rob delves into the Renaissance period as he explores a typical 'parody mass', where composers would base each movement of a mass setting on the same musical theme. Rob looks at a master of this form of religious music-making, Palestrina, with his motet Tu es Petrus and the mass he based on it.
11am
Rob's Artist of the Week is the German conductor and composer Michael Gielen who when he retired in 2014, left behind an extensive recorded legacy. He held conducting posts from Vienna and Stockholm to Cincinnati and London. Besides championing the music of contemporary composers, he also excelled in music of the classical and romantic eras, which Rob focuses on this week, with Mozart's 'Haffner' Symphony, Schubert's 'Great' C major Symphony, Debussy's tennis-themed ballet Jeux, Beethoven's Symphony No. 4 and the opening Adagio from Mahler's final, incomplete Symphony No. 10.
Beethoven
Symphony No. 4 in B flat major, Op. 60
SWR-Sinfonieorchester Baden-Baden und Freiburg
Michael Gielen (conductor).
By Association
Answer: Saint-Saëns and Liszt (the piece was dedicated to Liszt)
The music played:
Saint-Saëns
Symphony No.3 in C minor, 'Organ Symphony': IV: Maestoso - Allegro
James O'Donnell (organ)
London Philharmonic Orchestra
Yannick Nezet-Seguin (conductor)
LPO