Main content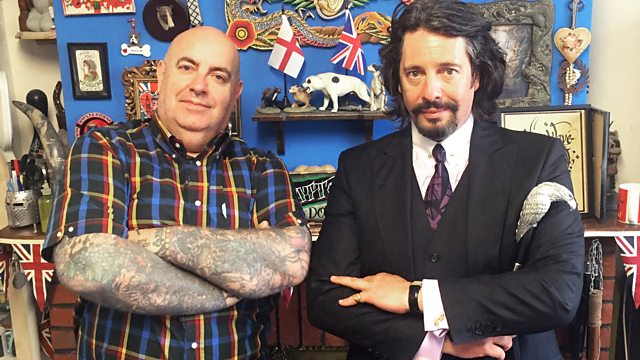 14/10/2016
Laurence Llewelyn Bowen considers some of the subjects that have formed the basis for tattoos. What do the tattoos on a person's body say about their life?
Laurence Llewelyn Bowen considers some of the subject matter that people across the UK are having tattooed on their bodies. He uncovers arm sleeve tributes to family members, vivid Japanese back pieces and dotwork renderings of Hollywood actors.
Matt Lodder, lecturer in contemporary art at the University of Essex, views tattooing as an artistic medium responding to the visual culture around it. "People want to have on their bodies the same things that they hang on their walls. Tattoo collectors feel willing and able to pick and choose from a wide spectrum of things - Japanese to graphic culture to traditional western tattooing to riffs on anthropological traditions from around the world. This variety characterises contemporary tattooing."
At Blythe House, the West London storage facility for the Wellcome Collection, he scrutinises the link between tattoos and criminality with Dr Gemma Angel, a research fellow at UCL's Institute of Advanced Studies. She shows him a collection of preserved tattooed human skins from 19th Century France.
Many people's extensive tattooing is concealed from the outer world. Ivan Carter is a project manager from Cambridge with a Japanese dragon adorning his back. We'll also join John, a senior city financier, finishing off his full body suit. "Some people I know were absolutely astonished when they discovered I was so fully tattooed as I am. Not everyone is fully approving. Not many people I work with will have visible tattoos. It's the tension between your outer world and inner world that's interesting."
And, finally, Laurence decides whether or not to join the ranks of the estimated quarter of the UK population with a permanent inking.
Producer: Paul Smith
A Just Radio production for BBC Radio 4.
Last on