Main content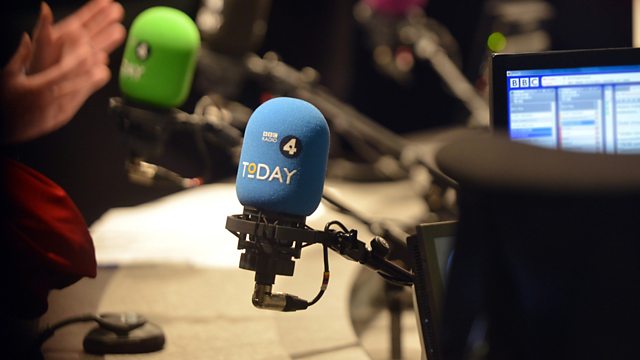 11/10/2016
News and current affairs. Including Sports Desk, Yesterday in Parliament, Weather, Thought for the Day.
Today's running order
0650
Researchers at Shinshu University in Japan have published research that has found that they can induce cardiac self-repair in primates by transplanting stem cells from other primates. Professor Nilesh Samani is medical director at the British Heart Foundation.
0655
"Take back control" was the message that resounded from the Leave side during the referendum campaign. But according to research out today, the desire to take back control was a driving force on both sides of the debate – and is visible in politics around the world. Marc Stears is chief executive of think tank the New Economics Foundation.
0710
Samsung has urged owners of the Galaxy Note 7 to turn off the smartphone while it investigates new reports of the device catching fire. Carolina Milanesi is a consumer tech analyst at Creative Strategies, a consumer research consultancy based in Silicon Valley.
0715
The RMT started a new three-day strike at midnight as they continue their dispute with Southern Trains. Charles Horton is chief executive of Govia Thameslink Railway.
0720
"I think the people of this country have had enough of experts." When Michael Gove spoke those words during the referendum campaign he struck a chord - or at least made a loud noise. Sebastian Mallaby has released a book this week about the man who could be called the epitome of the expert - the former chairman of the US Federal Reserve Alan Greenspan. 
0730
MPs will hold an emergency debate on the humanitarian crisis in the Syrian city of Aleppo later today. Andrew Mitchell is former secretary of state for international development - he called today's emergency debate.
0740
One of the UK's most successful television actresses and writers has turned her gaze onto one of the darkest moments in many people's life – divorce. Sharon Horgan is creator and executive producer of the new comedy series Divorce.
0750
A study by Cancer Research UK, released today, suggests 40% of people are put off going to their GP because they are unwilling to discuss their symptoms with receptionists. Jessica Kirby is health information manager at Cancer Research UK and Dr Dan Roper is chair of the Hull Clinical Commissioning Group.
0810
Further volatility for the pound is being forecast this morning. Kamal Ahmed is the BBC's economics editor. Gerard Lyons is former chief economic advisor to Boris Johnson and Leave campaigner and Ngaire Woods is professor of Global Economic Governance at the University of Oxford and Remain supporter.
0820
As if the US election weren't enough of a mess already, Russian computer hackers - working for the state, according to the US authorities - have made it even murkier. The BBC's security correspondent Gordon Correra has been looking at the charges leveled at Russia and the fears about what might happen next.
0830
Hundreds of thousands of people who live in areas prone to flooding have failed to install basic protection, according to the Association of British Insurers. But insurers themselves have been criticised by the Environment Agency for failing to protect against future floods. The BBC's environment analyst Roger Harrabin reports.
0835
Newcastle-Gateshead has been chosen to stage the Great Exhibition of the North, showcasing art, design and innovation from the north of England. Ian Watson is director of Tyne and Wear archives and museums, who was part of the bid.
0840
Without the means to provide for their families, parents in Syria are arranging marriages for children as young as 12. The BBC's James Longman has been to northern Lebanon, to a class for Syrian refugee girls and women run by Save the Children, where they are now able to discuss their experiences.
0850
Donald Trump has described his comments about groping women as "just words" and "locker room talk". But do they reflect more widely-held misogynistic views by many men which may only surface in a male-only environment? The BBC's Ross Hawkins reports and Laura Bates is founder of the Everyday Sexism project.
All subject to change.