Main content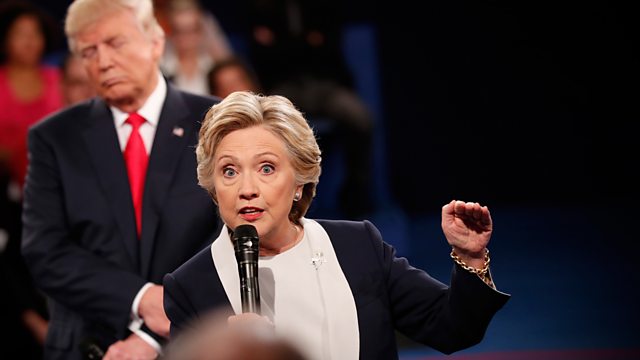 Donald Trump and women, The life of Angela Carter, Is it time for a Good Sex Award?
Jane Garvey discusses misogyny in the US presidential election. The life and work of Angela Carter. And is it time for a literary award to acknowledge well-written sex?
With the recent revelations of Donald Trump's comments on women from 2005, and his response in the second televised debate, has the US election become a contest over who treats women the least badly? Jane is joined by Cynthia Weber, Professor of International Relations at Sussex University.
When Angela Carter died in 1992 at the age of 51, an obituary described her as "one of the most important writers at work in the English language." The next year the British Academy received 40 proposals for doctoral research into her work. So how did she achieve such recognition and popularity in her relatively short career? Edmund Gordon has written the first biography of Angela's life and joins Jane along with Susannah Clapp, Angela's literary executor and author of A Card from Angela Carter, a very personal portrait of the writer as seen through the quirky postcards she sent her over the years.
Do we need a Good Sex in Fiction Award? At Cheltenham Literature Festival last weekend Lisa Moylett, publisher of the Erotic Review, announced her intention to launch a Good Sex in Fiction Award. So what constitutes "good" sex writing? And what makes it bad? Jane is joined by Lisa and by Alice Levine from the hit podcast, My Dad Wrote a Porno - soon to be available in book form: The fully annotated edition of Rocky Flintstone's Belinda Blinked 1.
Lauren Laverne talks through some of the choices she made from music of the 1940s and 50s for the BBCMusic playlist to celebrate 70 years of Woman's hour. You'll hear Billie Holiday's Strange Fruit, Judy Garand with Get Happy and The Beverly Sisters, Its Illegal Its immoral or It Makes You Fat. Lauren also talks about a series of compilations called - 'This Record is not to be Broadcast - banned by the BBC' released by Fantastic Voyage Records, and the banned Beverley Sisters recording 'We have to be so Careful'.
Lisa Moylett, of the Erotic Review, and Alice Levine from My Dad Wrote A Porno discuss.

Lauren Laverne introduces her choices from the 40's and 50's for our BBC Music playlist.
Chapters
US Elections and Treatment Of Women

Has the US election has devolved into a contest of who treats women the least badly?

Duration: 09:44

WH@70 Playlist

Lauren Laverne on her music choices from the 40s and 50s for the BBC Music WH playlist.

Duration: 07:06

Good Sex Writing

The Literary Review honours bad scenes of sex with an award. Do we need one for Good Sex?

Duration: 10:03

Angela Carter

How did the novelist Angela Carter achieve such recognition in her short career?

Duration: 09:27

Credits

| Role | Contributor |
| --- | --- |
| Presenter | Jane Garvey |
| Producer | Helen Fitzhenry |
| Interviewed Guest | Cynthia Weber |
| Interviewed Guest | Edmund Gordon |
| Interviewed Guest | Susannah Clapp |
| Interviewed Guest | Lisa Moylett |
| Interviewed Guest | Alice Levine |