Main content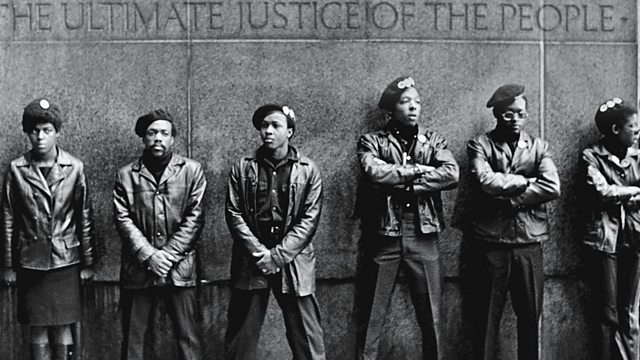 The Black Panthers
Dorian Warren explores the rise and fall of the Black Panther Party and its legacy for recent black insurgency in America.
Dorian Warren explores the rise and fall of the Black Panther Party and its legacy for more recent black insurgency in America.
Founded in Oakland California in 1966, the Black Panther Party represented a revolutionary disavowal of mainstream Civil Rights. Its Ten Point Programme advanced a series of radical demands ranging from the right to armed resistance against police violence to universal healthcare, housing and education for the poorest sections of the black community.
While Martin Luther King argued for tactical non-violence and full integration, the Panthers carried guns and were resolutely internationalist, drawing instead on the philosophy of Malcolm X, Karl Marx and the African liberation movement.
The media image of the Panthers, of the glowering, gun toting, leather jacket-clad revolutionary, still dominates - it was highly stylised, coded to alarm white America, and members did indeed receive munitions and weapons training. Armed confrontation with the police and SWAT teams ensued. But a good deal of their work was dedicated to grass-roots and community outreach work - food programs, schooling and crèche support, raising funds for legal aid, prison welfare reform.
The reasons for the Panthers' siege mentality and harrowing decline in the early 1970s are still contested: factional splits and trauma within the Party and internecine violence, but also huge pressure from without, police raids, FBI infiltration and the Nixon government pledging a platform of national law and order.
Hearing from former Panthers (including Party founder Bobby Seale) critics and scholars, broadcaster and writer Dorian Warren explores the different dimensions of the Black Panther Party. Fifty years after its foundation the Black Panther Party still casts a long shadow - in 2016 The Black Lives Matter coalition released a Six Point Platform for Black Power, Freedom and Justice, explicitly evoking the Panthers' original 1966 Ten Point Programme.
Presenter: Dorian Warren
Producer: Simon Hollis
A Brook Lapping production for BBC Radio 4
First broadcast in 2016
Last on
Broadcasts

Featured in...
Seriously interesting documentaries from Radio 4.

A collection of programmes and content marking Black History Month.