Main content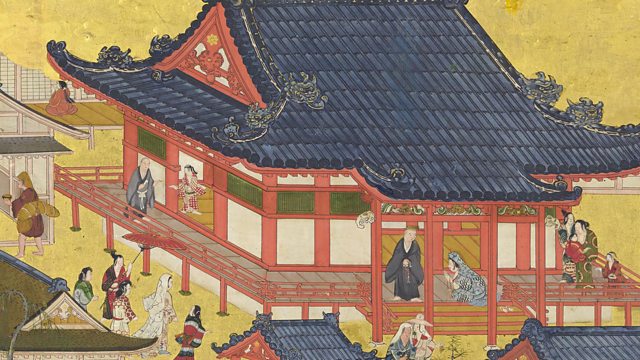 Scenes in and around Kyoto
Cathy FitzGerald takes a closer look at a stunning pair of Japanese screens. Follow the link from the BBC Radio 4 website to explore a high-resolution image as you listen.
A three-part series for BBC Radio 4 offering listeners the chance to take a long, slow look at great artworks, photographed at high-resolution.
What would it be like to walk the streets of 17th century Kyoto? In this week's episode, Cathy FitzGerald explores a sumptuous pair of Japanese screens that depict the historic city in incredible detail. Follow the link to zoom in and examine the artwork as you listen.
Temples, shrines, castles, shops and homes - the image is crammed with tiny scenes. A man in a barber's shop examines his new hair cut in a mirror. People peer down into the street to watch a parade pass. Weary pilgrims sit on a verandah, sharing fruit. Men and women of every age and every social class appear, more than 1,800 in all.
Cathy FitzGerald hears how these glittering screens - a genre known as 'rakuchû rakugai-zu' or 'scenes in and around Kyoto' - were made and what they tell us about everyday life in the 17th century Japanese city.
Presenter and Producer: Cathy FitzGerald
A White Stiletto production for BBC Radio 4
Image: Sights in and around Kyoto, Artist Unknown, Mid Genna era (1615-24). From the collection of the Shimane Museum, courtesy of the Bureau of Public Enterprise, Shimane Prefectural Government. Photograph by Google Arts and Culture.
Last on
Scenes in and around Kyoto, at Google Arts and Culture
Broadcasts