Main content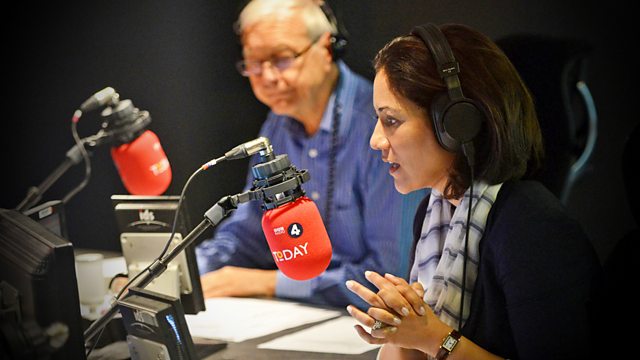 23/09/2016
Morning news and current affairs. Including Sports Desk, Weather and Thought for the Day.
Today's running order
All subject to change
0650
People who are tricked into transferring money to a fraudster deserve better protection, according to consumer group Which?.  Alex Neil is the director of policy and campaigns.  
0709
Yahoo says hackers stole information from about 500 million users in 2014 in what appears to be the largest publicly disclosed cyber-breach in history. Troy Hunt is a security expert who tracks breached websites.
0713
A group of Scottish Merchant Navy cadets has been stranded off Singapore for weeks after the company they were training with went bankrupt. Rhona Macleenan is the mother of 22-year-old Ruairdh Hanna, who is on board the Hanjin Louisiana ship, anchored east of Singapore.
0722
An academic based in Portsmouth has spent six years reconstructing the original score of The Yeoman of the Guard exactly as Gilbert and Sullivan had intended it. Arts correspondent Rebecca Jones reports.
0734
Keith Lamont Scott, a black man, was shot dead by police earlier this week in Charlotte in North Carolina. Yesterday, in Tulsa, Oklahoma, a police officer was charged with manslaughter over the death of another black man. Danielle Outlaw is the deputy chief of Oakland Police Department and a member of National Organization of Black Law Enforcement Executives.
0744
"Fewer than one in five" or "less than one in five"? Opinion in the Today programme team has been divided by the question. Oliver Kamm is a language columnist at The Times.
0751
The end of the Syria's brief ceasefire has brought terrible consequences for many civilians. Monther Etaki, a local journalist there has been speaking to our correspondent, Mike Thomson.
0810
The family of a woman who spent nearly four years in a vegetative state have said the process for withdrawing treatment for these patients should be sped up and simplified. Sanchia Berg hears their story.
0820
Brothers Jonny and Alistair Brownlee created headlines around the world at the world athletics championships in Mexico the moment Alistair helped Jonny over the finishing line.   At Rio in the Olympics Alistair had already become the first triathlete to defend successfully a gold.
0835
Mary Berry has decided that she will not be following TV hit Bake Off to Channel 4, unlike Chief Breadmaker Paul Hollywood who is the only member of "talent" to make the move across. Alexander Graham set up Wall to Wall production company and Cat Lewis the CEO of Nine Lives Media.
0843
Former Charlie Hebdo cartoonist Riad Sattouf grew up in the Middle East in the 80s. His first graphic memoir – The Arab of the future – was a best seller in France, and was translated in 17 languages. The sequel, The Arab of the future 2, covers the years between 1984 and 1985, and tells the life of a 6-year-old boy in a small village near Homs in Hafez al-Assad's Syria.
0847
The Green Party has confirmed its candidate for next month's by-election in Witney and West Oxfordshire as Dr Larry Sanders, the brother of the American politician and former Democratic presidential hopeful Bernie Sanders.
0851
In a time when the NHS budget is increasingly squeezed, what should be cut? In this climate is it possible to make "fair" decisions about which groups get funding priority? John Appleby is the chief economist at the Nuffield Trust and Hazel Biggs is the professor of healthcare law and bioethics at the University of Southampton.