Main content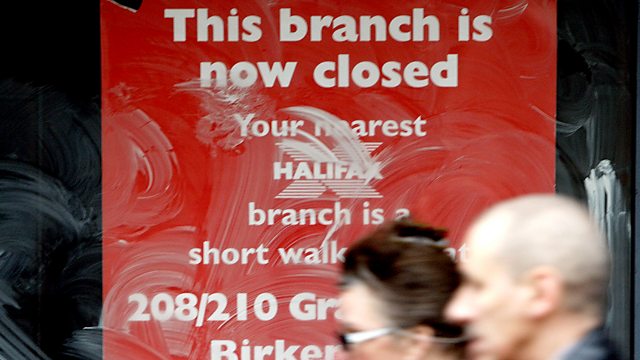 Money Box Live: Who needs a bank branch?
Paul Lewis and guests discuss what the pace of branch closures in the UK says about the way we bank.
Last year over than 681 bank branches closed in the UK compared with 500 the year before. There are now fewer than 9,000 branches and more closures are expected to follow. A common explanation from banks is that the change reflects the fall in demand caused by customers who find it more convenient to manage their money by telephone, online or by using smartphone banking apps.
The issue was recently raised during a debate in Parliament where MP's raised concerns about the impact of a lack of access to local banking services on small business owners, rural communities and pensioners.
Do you need a bank branch? When was the last time you visited one?
Send your questions, experiences or views on the relevance of bank branches by e-mail to moneybox@bbc.co.uk.
From 1pm to 3.30pm on Wednesday 5 October you can call 03700 100 444, standard geographic charges from landlines and mobiles will apply.
Guests: David Cavell, independent banking consultant, Ben Baruch, Policy Adviser, Federation of Small Businesses, Anne Boden, Chief Executive Starling Bank.
Presenter: Paul Lewis
Producer: Charmaine Cozier
Editor: Andrew Smith.
Last on
Broadcast