Main content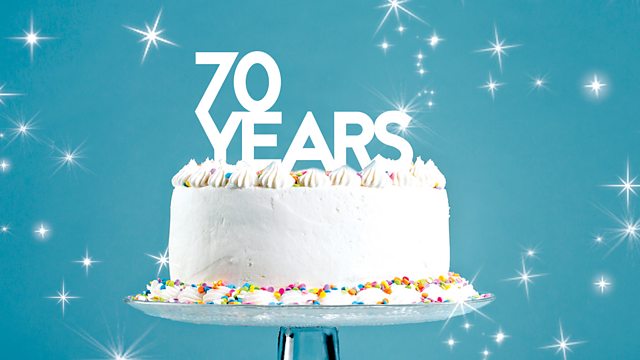 Today is our 70th birthday!
A dig into our archives to celebrate our 70th. Breastfeeding discrimination case. Lisa Dwan and Beckett. 70@70: Lauren Laverne's special playlist gift. Cassa Pancho & Ballet Black.
70 years ago at 2pm on 7th October 1946 the first edition of Woman's Hour was broadcast. To celebrate our 70th birthday Jane joined former Woman's Hour presenter Sue MacGregor and Jean Seaton, Professor of Media History from the University of Westminster speaking on microphones from the early days to look back into the BBC archive.
Last week an employment tribunal in Bristol found that the airline EasyJet had discriminated against two cabin crew members, Sara Ambacher and Cynthia McFarlane, by failing to let them work shorter shifts while breastfeeding. We examine the details of the case and the implications this ruling could have for other employers and the rights of women in the work place. With Nicky Marcus, Regional Legal Officer for Unite the Union and Katie Wood, a Barrister and legal officer for Maternity Action UK.
As her new play No's Knife, adapted from a number of Samuel Beckett's prose pieces, continues at the Old Vic in London, Lisa Dwan talks to Jenni about her passion for Beckett, what he has to offer women and why some people struggle with his work.
70@70, Late Night Woman's Hour presenter Lauren Laverne has created a BBC Music playlist for Woman's Hour to celebrate the programme's birthday - 70 tracks by 70 female artists from across the last 70 years. You can find the list of tracks on the BBC Music website by following the link on the Woman's Hour homepage from 10am on Friday.
Ballet Black is a professional ballet company for dancers of black and Asian descent. Their most recent show, Triple Bill, sold out the Barbican in London, and is now touring the country. Artistic Director, Cassa Pancho, founded the company in 2001 after noticing the lack of ethnic minorities in classical ballet. She talks to Jenni about her desire to build diversity into ballet from the school dance-floor to national companies.
Presenter: Jenni Murray
Producer: Kirsty Starkey.
Jane G speaks to former Woman's Hour presenter Sue MacGregor & BBC Historian Jean Seaton.

Jane Garvey, former presenter Sue MacGregor and Jean Seaton attempt to use vintage mics.
Chapters
Happy Birthday!

A sneak peak into the Woman's Hour archive.

Duration: 01:26

Breastfeeding Discrimination Case

We discuss an employment tribunal that the airline EasyJet had discriminated.

Duration: 07:07

Woman's Hour At 70

Jane Garvey speaks to former presenter Sue MacGregor & BBC Historian Jean Seaton.

Duration: 15:30

Lisa Dwan

Theatre actress Lisa Dwan on her passion for Beckett and what he has to offer women.

Duration: 07:21

70@70

LNWH presenter Lauren Laverne has created a playlist to celebrate our birthday.

Duration: 04:07

Cassa Pancho

Artistic Director of Ballet Black, a professional ballet company for BAME ballerinas.

Duration: 06:13

Credits

| Role | Contributor |
| --- | --- |
| Presenter | Jenni Murray |
| Producer | Kirsty Starkey |
| Interviewed Guest | Nicky Marcus |
| Interviewed Guest | Katie Wood |
| Interviewed Guest | Sue MacGregor |
| Interviewed Guest | Jean Seaton |
| Interviewed Guest | Lisa Dwan |
| Interviewed Guest | Lauren Laverne |
| Interviewed Guest | Cassa Pancho |