Main content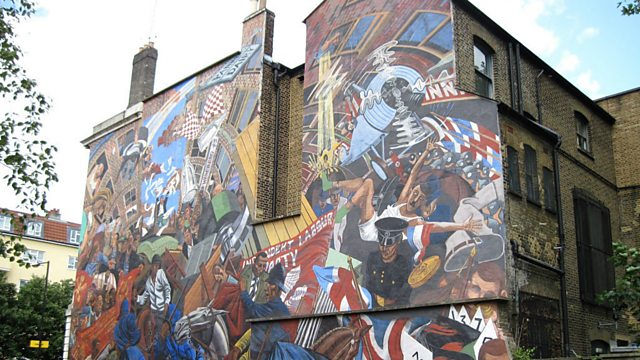 The Battle of Cable Street, Animal Welfare Sunday, Exorcism
Religious and ethical news. On the 80th anniversary of the Battle of Cable Street, Trevor Barnes reports from the East End of London. Plus Animal Welfare Sunday.
It is 80 years since anti-fascist demonstrators took on the police and Oswald Mosley's Black Shirts in the East End of London. Trevor Barnes reports on The Battle of Cable Street.
The Director of the Anglican Centre in Rome - The Most Reverend Sir David Moxon - joins William Crawley to celebrate the Centre's 50th anniversary and to talk about his role as the Archbishop of Canterbury's Representative to the Holy See.
Rabbi David Rosen - Director of the American Jewish Committee's Department of Interreligious Affairs - pays tribute to the former Israeli Prime Minister and President Shimon Peres.
Why is 15 year old Rayouf Alhumedhi campaigning for a hijaj emoji?
This week, the Archbishops of Armagh and Canterbury issued a joint statement welcoming the end of a three-year stand-off between Catholic residents and a protestant group who want to march through their neighbourhood. William talks to Professor John Brewer, an expert in post-conflict peace-building in Northern Ireland.
Catholic aid agency Progressio is to close after 75 years, we discuss why.
Today is Animal Welfare Sunday when children across the country will be taking their pets to church. Samantha Chandler of the Anglican Society for the Welfare of Animals believes that animals go to heaven.
Exorcists are reporting a rise in demand for their services. To discuss why this might be the case, William is joined by Myles Dempsey, a Catholic with experience of 'deliverance' and exorcism, and by Professor Les Lancaster, Director of the Alef Trust which offers postgraduate courses in spiritual psychology.
Producers: Helen Lee and Dan Tierney
Series Producer: Amanda Hancox.
Last on
Chapters
Hijab Emoji

Why is 15 year old Rayouf Alhumedhi campaigning for a hijaj emoji?

Duration: 05:28

Sir David Moxon

This week marks 50 years since the founding of the Anglican Centre in Rome.

Duration: 04:34

Rabbi David Rosen

Rabbi Rosen pays tribute to the former Israeli Prime Minister and President Shimon Peres.

Duration: 04:49

Parades Agreement

A 3 year stand-off between Catholic residents and a protestant group has come to an end.

Duration: 05:50

Animal Welfare Sunday

Children across the country will be taking their pets to church.

Duration: 05:29

Battle of Cable Street

Trevor Barnes reports on The Battle of Cable Street 80 years on.

Duration: 08:02

Exocism

Exorcists are reporting a rise in demand for their services.

Duration: 07:40

Broadcast

All the colours of the rainbow