Main content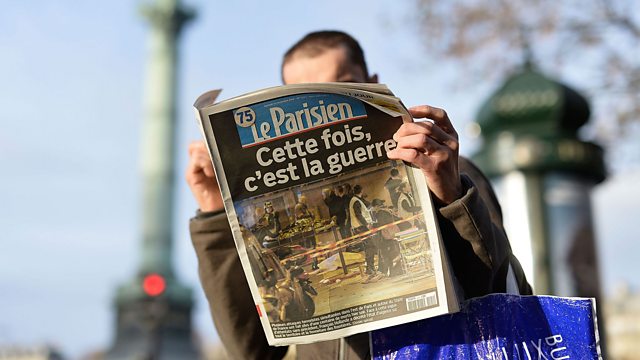 Reporting Terror: A Dangerous Game
Do reports of terror attacks aid terrorism? Journalists debate how terror stories dominate the news agenda, and whether media organisations need to rethink their coverage.
A string of terrorist attacks in France and Germany dominated the news agenda in summer 2016. Now, some journalists are asking if their approach needs to change. More than 30 years after Margaret Thatcher famously coined the phrase "the oxygen of publicity" when referring to media coverage of the IRA, the French newspaper Le Monde has pledged to stop publishing photographs of terrorists in an attempt to deny them "posthumous glorification". So should media outlets in the UK and Europe change the way in which they cover terrorism?
The BBC's Security Correspondent, Gordon Corera, and an expert panel of journalists and editors from the UK, France and Germany debate the topic at Chatham House, the Royal Institute of International Affairs in London.
They discuss the different considerations journalists have both when reporting live on mass casualty attacks, and on reporting the aftermath. Should the media treat terrorist killings differently to other types of murder? And what's the balance to be struck between reporting terrorism whilst suppressing terrorist propaganda?
Panellists:
Simon Jenkins, Columnist, The Guardian; Editor, The Times (1990-92)
Jonathan Munro, Head of Newsgathering, BBC
Fatima Manji, News Correspondent, Channel 4 News
Amil Khan, Media consultant; Advisor to Syrian Opposition Coalition (2013-14); Middle East Correspondent, Reuters (2003-06)
Sophie Desjardin, Head, French Service, Euronews
Dr Peter Busch, Senior Lecturer, Department of War Studies, King's College London; Senior Broadcast Journalist, Zweites Deutsches Fernsehen
Chair: Gordon Corera, Security Correspondent, BBC
Producer: Alex Burton.
Last on
Gordon Corera reveals a secret tape with new revelations about the notorious Soviet spy
Broadcasts