Main content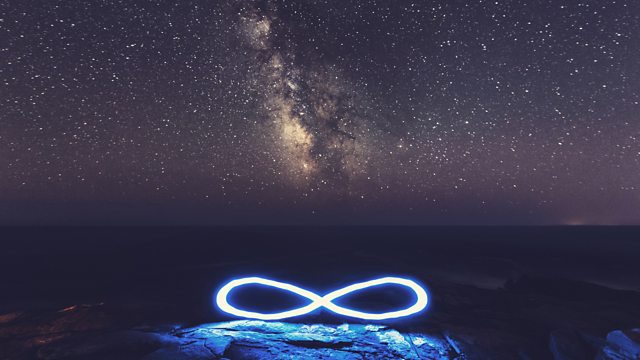 The Cosmos
Adrian Moore reaches into space. Does it go on for ever? Are there infinitely many stars? He consults ancient and modern thought about the universe.
Does space go on for ever? Are there infinitely many stars? These are some of the questions Adrian Moore explores in the eighth episode in his series about philosophical thought concerning the infinite.
With the help of the theories of the Ancient Greeks through to those of modern cosmologists, Adrian examines the central question of whether our universe is finite or infinite.
For most of us, looking up at the stars gives us a sense of infinity but, as Adrian discovers, there is a strong body of opinion which suggests that space is finite, albeit unbounded. This is a difficult idea to grasp, but by inviting us to think of ourselves as ants, astrophysics professor Jo Dunkley attempts explain it.
Adrian also tackles the idea of the expanding universe and the logic that leads cosmologists to argue that it all started with a big bang, and may all end with a big crunch.
Finally, we discover from cosmologist John Barrow how the appearance of an infinity in scientists' calculations sends them straight back to the drawing board. The infinite, which the Ancient Greeks found so troubling, has lost none of its power to disturb.
A Juniper production for BBC Radio 4.