Main content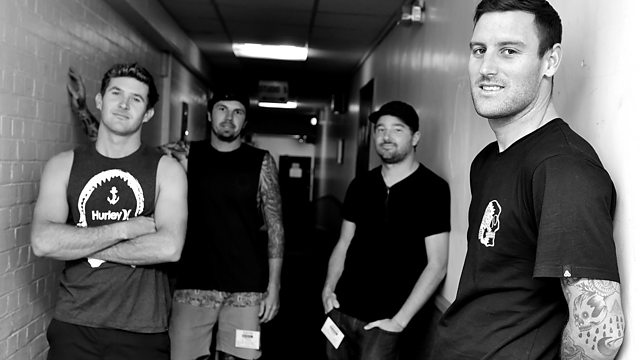 Frank Iero, Dillinger and Red Fang exclusives // Parkway Drive in session.
Daniel P Carter has a Rockest Record from ex-My Chemical Romance guitarist, Frank Iero. Plus, exclusives from Red Fang and Dillinger Escape Plan. Australian metalcore band Parkway Drive will be in session from Maida Vale and we'll be getting to know Big Spring.
Last on
Music Played
Nirvana

In Bloom

Nevermind.
Geffen Records/Sub Pop.

EXCLUSIVE

Steven Battelle

Last Night On Earth

Exit Brain Left.
Self-Released (Forthcoming).

ROCKEST RECORD

Frank Iero and the Patience

Remedy

Parachutes.
BMG Rights Management (US) LLC d/b/a Vagrant Records.

Ghost

Square Hammer

Popestar EP.
Loma Vista/Rise Above Records/Spinefarm Records.

God Damn

Fake Prisons

Everything Ever.
One Little Indian Records.

A Day to Remember

Bullfight

Bad Vibrations.
ADTR Records.

Stick to Your Guns

Universal Language

IN SESSION AT MAIDA VALE

Parkway Drive

Destroyer (Radio 1 Session, 30 Aug 2016)

Parkway Drive

Vice Grip (Radio 1 Session, 25 Sept 2016)

Beartooth

Hated

Aggressive.
Red Bull Records.

Taking Back Sunday

In The Middle Of It All

Tidal Wave.
Hopeless Records.

Green Day

Still Breathing

Revolution Radio.
Reprise Records.

ROCKEST RECORD (REPLAY)

Frank Iero And The Patience

Remedy

The Black Queen

Ice To Never

Zack de la Rocha

Digging For Windows

Not On Label (Zack de La Rocha Self-released).

GETTING TO KNOW YOU

Big Spring

On A Bamboo Sleeping Mat

Gallows

In The Belly Of A Shark

Orchestra Of Wolves.
In At The Deep End Records.

Every Time I Die

Two Summers

Low Teens.
Epitaph Records.

IN SESSION AT MAIDA VALE

Parkway Drive

Crushed (Radio 1 Session, 30 Aug 2016)

Parkway Drive

Bottom Feeder (Radio 1 Session, 30 Aug 2016)

Memphis May Fire

This Light I Hold (feat. Jacoby Shaddix)

This Light I Hold.
Rise Records.

Giraffe Tongue Orchestra

Blood Moon

Party Smasher / Cooking Vinyl.

Against Me!

Delicate, Petite & Other Things I'll Never Be

Shape Shift With Me.
Xtra Mile/Total Treble.

The Cut Ups

End Of The Road

The Nerves.
Freakscene Records.

EXCLUSIVE

The Dillinger Escape Plan

Symptom Of Terminal Illness

Dissociation.
Party Smasher Inc under exclusive licence to Cooking Vinyl Limited.

Meshuggah

Nostrum

The Violent Sleep of Reason.
Nuclear Blast Records.

Employed to Serve

Will Be Laid To Waste (Norma Jean Cover)

Metal Hammer: Decades Of Destruction.
Metal Hammer.

EXCLUSIVE

Red Fang

Not For You

Only Ghosts.
Relapse Records.

Wormrot

Fake Moral Machine

Raging Speedhorn

Bring Out Your Dead

Lost Ritual.
Pledge Music.

Turnstile

Come Back For More

Planes Mistaken for Stars

Riot Season

Neurosis

Bending Light

Fires Within Fires.
Neurot Recordings.
001.

Emma Ruth Rundle

Real Big Sky

Marked For Death.
Sargent House.

Nick Cave & the Bad Seeds

Skeleton Tree

Skeleton Tree.
Bad Seed Ltd..
Broadcast