Main content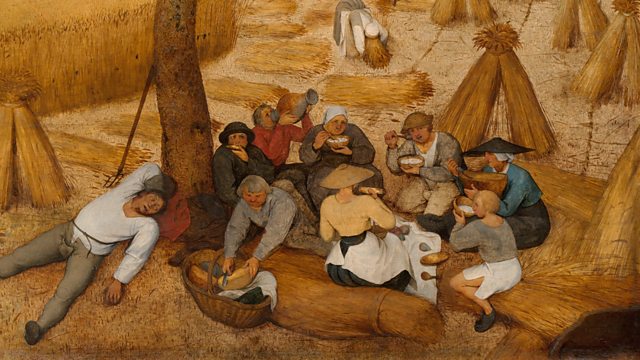 The Harvesters by Pieter Bruegel the Elder
Take a closer look at Bruegel's Harvesters with Cathy FitzGerald. Follow the link from the BBC Radio 4 website to explore a high-resolution image of the artwork as you listen.
A three-part series offering the chance to take a long, slow look at great artworks, photographed in incredible detail.
In this first episode, immerse yourself in Pieter Bruegel the Elder's masterpiece The Harvesters, in the company of Cathy FitzGerald and experts from the artist's Flemish homeland. Follow the link to explore a high-resolution image of the painting and you'll be able to zoom in to see the tiniest details as you listen - even examine Bruegel's brushstrokes.
It's a hot, dry day in 16th century Flanders. Labourers grab a break from bringing in the harvest, they eat lunch and snooze under a tree. Behind them, the peaceful countryside is full of life. Scrumpers steal from an orchard, villagers enjoy harvest games on the green, monks escape the heat with a wild-swim.
Cathy FitzGerald takes a walk through the landscape and then hears how the masterpiece may have brightened up a wealthy Antwerp merchant's dinner parties.
Image: The Harvesters by Pieter Bruegel the Elder, 1565, from the collection of the Metropolitan Museum of Art. Photographed by Google Arts and Culture.
Presenter and producer: Cathy FitzGerald
Original music: Joe Acheson and Tomas Dvorak
A White Stiletto production for BBC Radio 4.
Last on

Broadcasts