Main content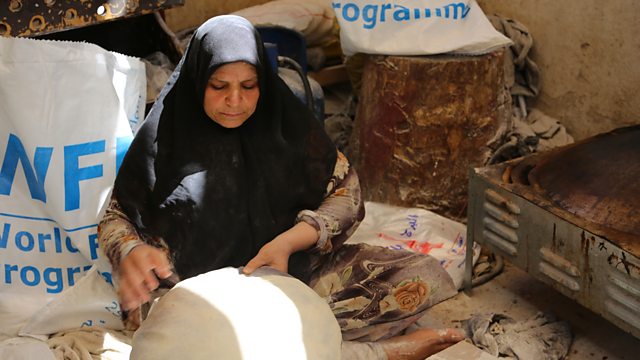 Food Stories from Syria 2
Series investigating every aspect of the world of food.
This week, as aid convoys carrying food into Syria have been under attack, Dan Saladino revisits the conflict. A year ago, he reported on how displaced Syrians managed to eat and survive in conflict and its impact on the country's ancient food culture. In this episode he investigates how food is being used as a weapon - and target - of war.
He hears from the World Food Programme about new efforts they've been making to reach over 4 million people with food aid, many of whom live in besieged and isolated areas, with staff risking their lives to do so. Bakeries have reportedly been targeted in bombing raids and traders have been profiteering by controlling the availability of food, creating a wartime economy. Yet despite the attacks and broken ceasefires, efforts are already being made to create new food businesses for when peace returns. Work to train up beekeepers and tomato growers is already taking place to sustain a post-conflict Syria.
Here in the UK, Dan meets some of those whom the Government pledged to resettle from camps outside Syria. In Mansfield, Nottinghamshire he shares lunch with two families for whom Eid is a very different and emotional experience. We also hear from American-Syrian journalist Dalia Mortada who has charted the Syrian diaspora to see how this age-old food culture is being shared and celebrated around the world.
Presented by Dan Saladino
Produced by Anne-Marie Bullock.
Credits
| Role | Contributor |
| --- | --- |
| Presenter | Dan Saladino |
| Producer | Anne-Marie Bullock |