Main content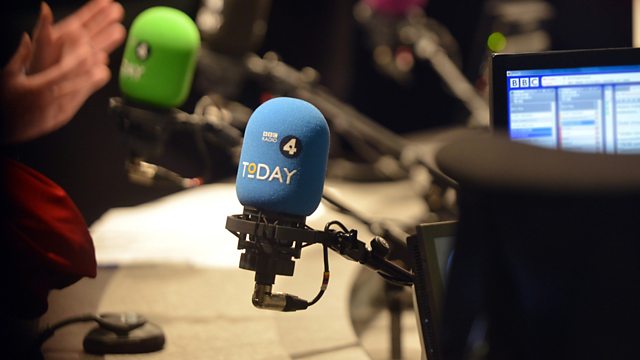 24/09/2016
Morning news and current affairs. Including Sports Desk, Weather and Thought for the Day.
Today's running order
All subject to change. 
0709
Attacks on the Syrian city of Aleppo continue - and now nearly two million people have no water. James Longman reports from Beirut.
0712
The Local Government Association, which represents councils across England, says the government's plan to turn every school into an academy will cost council taxpayers £320 million. Paul Carter is Conservative leader of Kent County Council.
0719
Horses have joined that select group of animals that appear to be more clever than we had thought. Now they are saying they can communicate by pointing at symbols. Jennifer Wathan is Visiting Researcher in Psychology at the University of Sussex.
0724
Men are paid more than women even at the very start of their careers, according to a report on the gender pay gap by the accountants Deloitte. It concludes that progress on closing the gap is so slow that young women starting work today will have retired by the time women are paid the same as men. Emma Codd is managing partner for talent at Deloitte, Professor Helen Byrne is a mathematical biologist at the University of Oxford.
0730
The result of the Labour leadership election is announced at lunchtime today. BBC assistant political editor Norman Smith is at the party conference in Liverpool and Today political correspondent Ross Hawkins reports from The World Transformed conference, which supports Jeremy Corbyn's policies.
0740
Meet The Author - James Naughtie speaks to Rose Tremain.
0748
Thought For The Day, with the Reverend Dr Rob Marshall, priest at St John's Digswell, Welwyn Garden City.
0750
Firefighters in Greater Manchester have all been sent letters telling them that unless they agree to a new shift system it will be imposed on them and if they do not accept it they will be sacked. Councillor David Acton is chairman of Greater Manchester Fire and Rescue Authority and Matt Wrack is general secretary of the Fire Brigades Union. 
0810
Warplanes have been bombarding rebel held areas of the Syrian city of Aleppo in one of the most intense attacks since the civil war began. The UN children's charity, Unicef, says the attacks have left nearly two million people without water. Justin Forsyth is deputy executive director of Unicef, Jeremy Bowen is BBC Middle East editor.
0820
The moment North Carolina police shot a black man was captured on video by his wife, who can be heard pleading with officers. The shooting and the protests which have followed have cast a shadow over election campaigning in the state. James Naughtie reports.
0830
The result of Labour's leadership election is announced today, with Jeremy Corbyn the strong favourite to triumph. Andy Burnham is shadow home secretary, Laura Kuenssberg is BBC political editor.
0840
More on the protests this week about the police shooting in North Carolina. Gary Younge is editor-at-large for The Guardian and author of Another Day In The Death of America.
0850
The founder of Facebook, Mark Zuckerberg, and his wife, Priscilla Chan have pledged three billion dollars over the next 10 years for scientific research. Their stated aim is to cure, prevent or manage all disease within their children's lifetime. But if they succeed, what will the world look like? Stephen Cave is the Executive Director of the Leverhulme Centre for the Future of Intelligence at Cambridge University, Dr Maureen Baker chairs the Royal College of GPs.
0855
The cricket county championship reached a dramatic end yesterday, with Middlesex winners. Emma John is author of Following On, Vic Marks is the Observer's cricket correspondent and a former player for Somerset and England.