Main content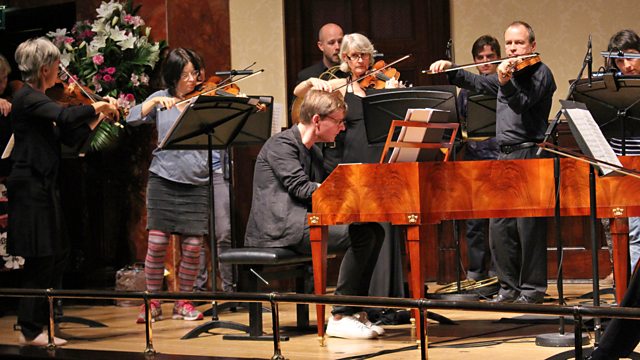 Freiburg Baroque Orchestra - Haydn, CPE and JC Bach, Mozart
Live from Wigmore Hall, Ian Skelly presents the Freiburg Baroque Orchestra and Kristian Bezuidenhout in symphonies and keyboard concertos by Haydn, CPE and JC Bach, and Mozart.
Live from Wigmore Hall the Freiburg Baroque Orchestra, one of the world's leading period instrument groups, is joined by one of the finest fortepiano players of our times, Kristian Bezuidenhout in an attractive programme of classical and pre-classical symphonies and concertos from Haydn, Mozart and two Bach brothers, Carl Philipp Emanuel and Johann Christian.
Ian Skelly presents.
Joseph Haydn: Symphony No.47 in G major HI:47
Carl Philipp Emanuel Bach: Keyboard Concerto in D minor Wq.17
Interval music (from CD):
Mozart Sonata in B flat major K.281
Johann Christian Bach: Symphony in G minor Op.6 No.6
Wolfgang Amadeus Mozart: Piano Concerto No. 14 in E flat major K.449
Freiburg Baroque Orchestra
Kristian Bezuidenhout, fortepiano & director.