Main content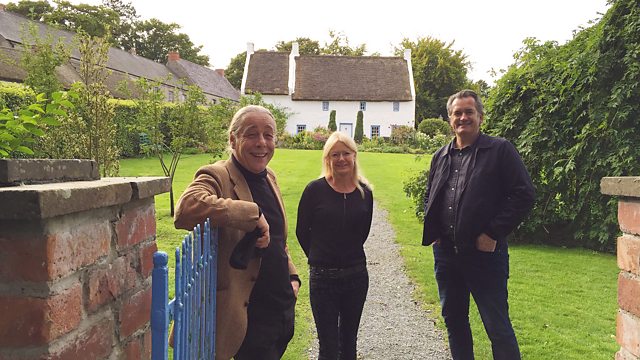 Belfast
Eric Robson and the horticultural panel visit the Ulster Folk and Transport Museum near Belfast.
Eric Robson and the horticultural panel visit the Ulster Folk and Transport Museum near Belfast. Bob Flowerdew, Bunny Guinness and Matthew Wilson answer the questions from the audience.
This week, the panel offers advice on the prevention of onion rot after harvest and sweetcorn varieties for the best crop, and suggest the best flowers to plant in a cutting garden.
Also, Neil Porteous discovers plants to maximise autumn colour in your garden.
Produced by Darby Dorras
Assistant Producer: Laurence Bassett
A Somethin' Else production for BBC Radio 4.
Fact sheet
Q – I have acquired some seeds for the crimson Lupin 'The Pages' – what is the best way to plant and tend them until next year?

Bunny – I sowed mine into plugs because slugs are particularly attracted to Lupins. Then I planted them out in April, make sure you can keep the slugs away. They don't flower very well in the first year but they will get better as the years go on. They don't like alkaline soil. I use cheap multi purpose compost for their first potting. 
Matthew – I would pinch out any flower buds that appear in the first year because you want Lupins to build up and the roots to establish well. 

Q – My onions seem to rot from the bottom after I have harvested them – what am I doing wrong?

Bob – You can damage the basal plate if you push the sets into the soil – the soil organism can get into the bottom of the plant through the bruised areas. It is better to place them on the ground, make a small depression and then pile soil around them – once they have rooted you can brush the soil away. Pulling the onions out of the ground too vigorously can also damage them. Take a spade or knife and cut through the roots at an angle and they should lift out without pulling the roots out. Make sure you dry them really well in a hot, dry place. 
Bunny – Often people leave onions in too late, harvest them earlier than late August and then they will dry much better. Some varieties are very prone to rotting and some are better for storage – 'Sturon' is meant to be good for storage.

Q – My sweetcorn has failed to ripen again this year, last year I grew 'Sundance' and this year I grew 'Swift'. Is it possible to grow corn this far north?

Bob – I would recommend a variety called 'Incredible' which has done well this year. Depending on the variety, not all of the corn will turn yellow – it may stay white. Along with not getting enough heat and light, if they are planted too close together they do not tend to cob up well or early. I plant mine between 2ft and 2.5ft (60-75cm) apart. I grow them in buckets under cover, you can only plant one per bucket. I collect the pollen from the male plants and when the female plants appear I dust the pollen over them. 
Bunny – There are varieties that produce very small cobs. If you water more when they are at the tassel stage, then they will produce more corn on their cob.

Q – I planted a small orchard six years ago, the apples are cropping well but the Damson 'Merryweather' has never flowered. What should I do?

Bob – If there are no flower buds it is probably bullfinches eating them. If they are not forming flower buds at all, the soil may be too acidic. You could use Lime or calcified seaweed. A shortage of potash might also be a problem, using wood ash can be helpful. 
Eric – I recommend the 'Shropshire Prune' variety. 
Bunny – It is worth buying from a specialist fruit grower when you are buying fruit trees. They will have good varieties that you can depend on, if you have problems you can call the seller and they should help you or send you a new one.

Q – Which plant, shrub or tree is the panel most looking forward to seeing in their autumn colour?

Matthew – For small to medium size gardens I would say the shrub Cotinus 'Flame'. Also the perennial, Strobilanthes atropurpurea.  
Bunny – I would also recommend Cotinus coggygria 'Royal Purple' and mine is planted against a double line of Pleached Hornbeam which turns butter yellow. And Canna x Ehemanii. The contrast is wonderful. 
Bob – Blueberries turn a wonderful colour and they work well in acid soil. 
Eric – American red oak.

Q – I planted a Tayberry three years ago, how can I keep it under control? Some shoots grow up to 10ft (3m) in length and flop over. 

Bob – You could tie them down to wires and pull them down sooner. When a bud points up in the air it is getting all of the sap so it grows fast. 
Bunny – Artificial hawks are helpful to keep the blackbirds away from the fruit. You could spade around the root zone which could inhibit it and help to stem the growth. 

Q – Could the panel suggestion a selection of flowers to put in a cutting garden? 

Bunny – If you add Purple Sage, Lemon Verbena or mint into a bouquet it makes a real impact, especially with roses. I like Hydrangeas with long stalks that are slightly green, Hydrangea macrophylla 'Madame Emile Mouillère' – especially when grown in shade. If you let the water go down slowly in the vase you will be left with a dried Hydrangea, which can last for months. 
Matthew – Alliums are good for cutting and drying out. I would also recommend bearded iris – they would do well against a south facing wall. If you cut the flowers in bud and let them open in a vase, they are very beautiful. 
Bob – Cornflowers are very good, all colours and they have long stems.  Sweet Williams, sweet peas, Calla lily and Crinum powellii.