Main content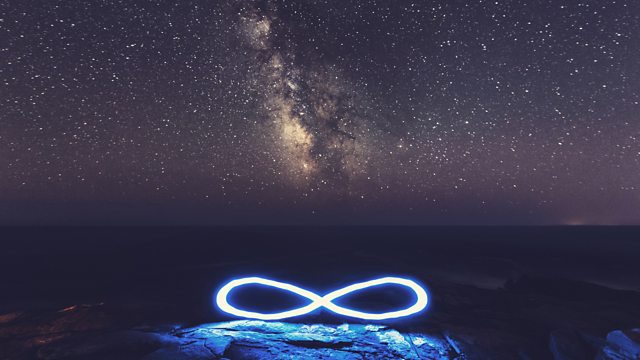 The Mathematics of the Infinitely Small
Adrian Moore explores the idea of infinity through history: the turbulent world of mathematics and infinity. From 2016.
Having looked at the infinite in philosophical and theological terms, it's time to view it through the lens of mathematics. In the fifth programme in his series, Adrian Moore introduces us to the pivotal role mathematics has played in the quest to understand the infinite.
He begins by enlisting the help of very modern technology and considering the real question put by an 11 year old boy - what is zero divided by zero?
That's the trigger for Adrian's investigation of the calculus – the tool we use to reckon with very small quantities. It plays a huge part in many aspects of modern-day design, medicine and statistical work, but what is less well-known is the seventeenth century row between two eminent scientists as to who actually invented it. Adrian meets science writer, Brian Clegg, to find out about the race to claim credit.
It didn't just cause a storm at its inception - we hear about the disagreements that dogged the calculus's early days, with the church too getting involved in the disputes about the infinitely small.
But as Adrian discovers, the quest to understand the infinite has left us with a branch of mathematics of unparalleled importance.
A Juniper production first broadcast on BBC Radio 4 in September 2016.
Last on
Broadcasts

Podcast
Adrian Moore journeys through philosophical thought on infinity over thousands of years.