Main content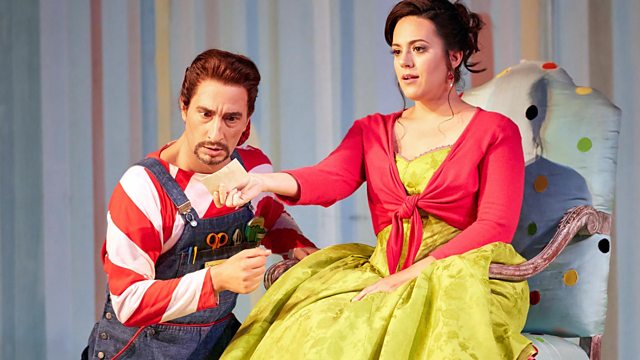 Rossini's The Barber of Seville
Live from the Royal Opera House, Covent Garden, Rossini's opera The Barber of Seville, with Daniela Mack as Rosina, Vito Priante as Figaro and Javier Camarena as the Count.
Live from the Royal Opera House, Covent Garden
Presented by Christopher Cook and Flora Willson
Henrik Nánási conducts a cast including Javier Camarena, Daniela Mack and Vito Priante in this revival of The Royal Opera's sparkling production of Rossini's The Barber of Seville.
Figaro .....Vito Priante (Bass)
Count Almaviva ..... Javier Camarena (Tenor)
Rosina ..... Daniela Mack (Mezzo-soprano)
Doctor Bartolo ..... Jose Fardilha (Bass)
Don Basilio ..... Ferruccio Furlanetto (Bass)
Berta ..... Madeleine Pierard (Soprano)
Fiorello ..... Gyula Nagy (Baritone)
Royal Opera House Orchestra
Royal Opera House Chorus
Henrik Nanasi (Conductor)
A group of musicians, including the wealthy (and disguised) Count Almaviva, has gathered outside Dr Bartolo's house to serenade a beautiful young maiden kept hidden away inside. She's Rosina, Dr Bartolo's ward, and the deluded old gentleman hopes to marry her himself. Figaro suggests that Almaviva disguise himself as a poor drunken soldier, with orders to be billeted with Dr Bartolo, in order to gain access to the girl. Thus the scene is set for one of the most delightful works in the operatic repertory.
Last on
Synopsis
Act I
Scene 1: Outside Bartolo's house in Seville; early morning
Fiorello has engaged a band of musicians to accompany his master, Count Almaviva, in his clandestine serenading of a mysterious lady (Ecco, ridente in cielo spunta la bella aurora). But she does not appear, and as day breaks the Count pays off the musicians. Their noisy thanks threatens to wake the neighbours. The Count hears someone approaching and hides. It is the barber Figaro, exulting in his lively existence (Largo al factotum). He is on his way to his shop for another day of attending to the heads and hearts of the people of Seville. The Count recognizes Figaro, who has served him in the past, and tells him that he has come to Seville in pursuit of a beautiful girl he saw in Madrid whom he believes to be a doctor's daughter. Figaro, who works in the doctor's house in many capacities, tells the Count the girl is in fact the doctor's ward. Their conversation is interrupted by her appearance. She has a note for her serenader, but before she can throw it to him Bartolo appears demanding to know what the paper is. Rosina tells him it is an aria from a new opera, The Futile Precaution.
She drops the paper from the balcony and sends Bartolo to fetch it, making sure the Count reaches it first. Bartolo sends her inside. Figaro reads the letter: it reveals the girl's name to be Rosina; when her tyrannical guardian leaves the house her serenader must let her know who he is and what are his intentions. Figaro tells the Count that the avaricious old doctor plans to marry Rosina for her money. Bartolo leaves, issuing instructions that nobody is to be allowed into the house. The Count overhears him saying the wedding will be that very day. The Count sings that he is Lindoro, who has no riches but who longs to marry Rosina (Se il mio nome). Rosina, from the house, joins in the refrain. But the window is shut suddenly. The Count asks Figaro to help get him inside the house, promising him gold. Figaro comes up with the idea that the Count must disguise himself as a soldier billeted on Bartolo – better still, a drunken soldier. They arrange to meet at Figaro's shop.
Scene 2: The main room in Bartolo's house; noon
Rosina determines that Lindoro will be hers, come what may (Una voce poco fa). She has just finished another letter for him – perhaps Figaro will help deliver it. He appears but they are interrupted by the return of Bartolo, and Figaro hides. Bartolo is looking for him. Rosina says she finds Figaro's company delightful. She leaves Bartolo to observe that the more he loves her the more she despises him. The music master Don Basilio arrives and Bartolo tells him of his determination to marry Rosina that day. Basilio warns him that Count Almaviva has come to Seville and is Rosina's secret admirer. But Basilio has a plan: he will start a rumour to discredit the Count and drive him out of Seville (La calunnia è un venticello). Worried that time is running out, Bartolo takes Basilio off to draw up the marriage contract.
Figaro has overheard and tells Rosina of her guardian's plan. She asks about the man she saw with Figaro outside the house. Figaro says it is a young cousin of his who has come to make his fortune; his one drawback is that he is dying of love for a beautiful girl whose name is Rosina. She is delighted; but how can she speak to this Lindoro? Figaro suggests writing a note, and Rosina gives him the one she has already written.
Figaro leaves, reflecting that he has nothing to teach her about being cunning. Bartolo approaches Rosina with his suspicions that she has been writing secret letters. Her answers cannot convince a doctor of his standing (A un dottor della mia sorte). But Rosina will not be cowed by his threats to lock her up. The Count appears, disguised as a drunken soldier, and tells Bartolo abusively that he is to be billeted on him. He manages to tell Rosina that he is Lindoro; Bartolo protests that he is exempt. During their altercation the Count passes a letter to Rosina. Bartolo sees it but Rosina substitutes a laundry list. The noise attracts Basilio and the housekeeper, Berta, and then Figaro, who tries to warn the Count not to go too far in his threats of violence. The uproar brings an officer of the watch and soldiers to the house. The soldiers are ready to arrest the Count until he shows their officer his identity papers. The confusion makes everyone feel that they are suffering from a terrible hammering in their heads which is driving them mad (Mi par d'esser con la testa in un'orrida fucina).
Act II
Scene 1: In Bartolo's house; late afternoon
Bartolo decides the drunken soldier must have been an agent of the Count, sent to sound out Rosina. The Count arrives, this time disguised as a young abbé; he is 'Don Alonso', Basilio's assistant. Basilio has been taken ill and 'Alonso' has come in his place to give Rosina a music lesson. Bartolo is suspicious; to win his confidence 'Alonso' gives him Rosina's letter to use as proof of the Count's infidelity. He suggests that Bartolo show it to Rosina and pretend it has been given to him by another of the Count's  lovers. Delighted with the idea, Bartolo takes the letter and goes to fetch Rosina. She arrives for her music lesson and recognizes her lover. She sings a rondo from The Futile Precaution: a tyrant cannot prevail against a heart burning truly with love (Contro un cor). Bartolo falls asleep and the Count promises to help Rosina escape. Bartolo wakes and Rosina continues the aria, which Bartolo proclaims dull.
He remembers a famous aria and personalizes it to praise Rosina, but is interrupted by Figaro who has come to shave him: Bartolo does not want to be shaved then, but Figaro tells him it is now or never. Bartolo goes to fetch towels
but thinks better of leaving Figaro with Rosina. He gives Figaro his keys to fetch the towels; Figaro creates a diversion which enables him to steal the key to the balcony window. Basilio appears. The Count quickly tells Bartolo that Basilio knows nothing about Rosina's letter; he persuades Basilio (with the help of a purse) that he is too ill to be out and eventually he leaves. As Figaro shaves Bartolo the Count tells Rosina that he will come at midnight to rescue her. But before the Count can explain what he has done with her letter, Bartolo realizes that a plot is being hatched, sends his servant to fetch Basilio back and then goes off to guard the door. Berta reflects on this universal malady – love – which is driving the whole house mad (Il vecchiotto cerca moglie).
Scene 2: In Bartolo's house; midnight
Bartolo discovers that Basilio does not know who 'Alonso' is. Bartolo urges him to fetch the notary to organize the wedding at once and hurries Basilio off, giving him the house key. Bartolo gives Rosina her own letter to 'Lindoro', tricking her into believing that her beloved is enjoying himself with another woman. In desperation Rosina agrees to marry Bartolo and tells him of the plan to carry her off. Bartolo leaves to fetch the police in order to have the Count and Figaro arrested as intruders. When Bartolo has left, Rosina breaks down in despair. A thunderstorm rages. As it ends, Figaro and the Count climb into the house up a ladder through the balcony door.
Rosina denounces them as traitors who have come to sell her to Count Almaviva. The Count reveals his true identity and the two are reconciled while Figaro urges them to make a swift escape (Ah! qual colpo  naspettato). Figaro spots people coming but discovers that the ladder at the balcony has been removed. Basilio enters with the notary, looking for Bartolo. Figaro tells the notary that Count Almaviva is on hand to marry Figaro's niece. The couple are married with Figaro and Basilio as witnesses. Bartolo arrives with soldiers to arrest the thieves. Figaro indicates to Bartolo that the Count and Rosina are married. Bartolo, outmanoeuvred, realizes he has been taking 'Futile Precautions'.
Broadcast