Main content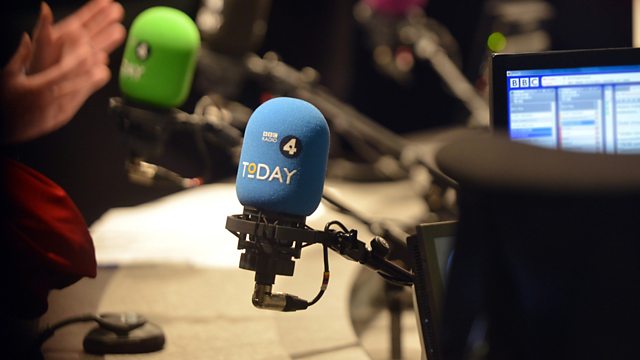 20/09/2016
Morning news and current affairs. Including Sports Desk, Weather and Thought for the Day.
Last on
Today's running order
All timings subject to change
0650
Smoking rates in England have fallen to the lowest on record say public health officials. Professor Kevin Fenton is the national director of health and wellbeing at Public Health England.
0653
Centre right think tank Reform is calling on the government to make it possible for maintained schools and academies to reward governors financially  for their time and effort. Amy Finch is the head of education at Reform.
0709
Theresa May will outline her vision on what the role of the UN should be in dealing with global threats. Justin Forsyth is the deputy executive director of UNICEF and UN assistant secretary general.
0711
The prime suspect in the weekend bomb attacks in New York and New Jersey has been charged with five counts of the attempted murder of police officers. Juliette Kayyem is the former assistant secretary in the Department of Homeland Security under President Obama and CNN's national security analyst.
0720
NHS doctors who work in private healthcare "on the side" will have to declare their income from extra work under plans from NHS England to ensure that they are not short-changing taxpayers. Health correspondent Hugh Pym reports.
0729
Labour's National Executive Committee meets today to consider plans to elect the party's Shadow Cabinet. Tom Watson is the deputy leader of the Labour Party.
0739
A biography of German naturalist and explorer Alexander von Humboldt has been named science book of the year. Andrea Wulf is the author of The Invention of Nature.
0746
A group of foster carers has made history by voting to form its own union. It followed concerns expressed about the employment status of foster carers and the conditions they work under. Sarah Anderson is a foster carer.
0810
A convicted killer has been found guilty of murdering missing woman Becky Godden five years after initially escaping justice due to police blunders. Double murderer Christopher Halliwell may have killed more women, senior detectives believe. Detective Superintendent Sean Memory is from Wiltshire Police.
0818
Every year cats are killing billions of birds and other animals around the world and should therefore be reduced in numbers, according to a new book called Cat War. Dr Peter Marra is the director of the Smithsonian migratory bird centre in Washington and author of Cat Wars. Dr John Bradshaw is director of the Anthro-zoology Institute.
0833
The Liberal Democrat leader, Tim Farron, will make his main speech to the party's autumn conference in Brighton today. The party are pushing an announcement of a panel of senior doctors and experts to examine the case for a "dedicated NHS and care tax". Norman Lamb MP is the Lib Dem health spokesman.
0829
Scientists are gathering in Oxford for a conference to discuss what a world heated by 1.5 degrees would look like, after the climate summit in Paris last year. Myles Allen is professor of geo-systems science at the environmental change institute at the University of Oxford. Janos Pasztor is the former UN assistant secretary general for climate change and now an independent advisor to Ban Ki Moon on climate change.   
0852
Project 333, a new book written by Joshua Becker in America, suggests people should be able to live fashionably by owning 33 pieces of clothing. Charlie Collins is a wardrobe expert at pre-owned fashion shop Vestiaire Coll.
Broadcast