Main content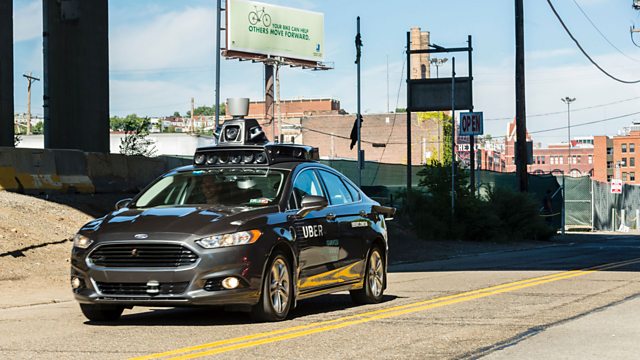 Driverless taxis, GP services, Ethical carnivores
Consumer affairs programme. Driverless Uber taxis. GPs withdrawing some "non-essential" services. Is it possible to be an ethical carnivore?
Uber has transformed taxi services across the world, allowing people to order cabs via their smartphone app. But they are now innovating in a new way, testing driverless taxis in Pittsburgh, Pennsylvania. It's cutting-edge technology, but not everyone in the city is content with the idea.
Some GPs in Lincolnshire are stopping non-essential services because, they say, the NHS isn't paying for them. It means some patients will no longer be able to receive things like ear care or blood pressure monitoring at their local surgery. The local medical committee says financial pressures are forcing GPs to concentrate on "core services". Local NHS managers say they hope they can find a solution, but it could take time.
If you're one of those people who eats meat but feels a bit uncomfortable about it, how would you feel about personally killing all the animals you eat? We speak to a writer who did just that. She was fed up of hearing people say they really care about where their meat comes from and decided to find out what it's really like when you take responsibility for what you eat. We ask if it is really possible to be an "ethical carnivore".
Producer: Jonathan Hallewell
Presenter: Winifred Robinson.
Chapters
Retail Figures - The British Retail Consortium

Figures for August show a 0.1% rise, year on year, in people visiting the high street.

Duration: 04:42

EASYBUS

If you buy bus tickets from an online agent, who do you complain to if it doesn't arrive?

Duration: 06:36

GP SERVICES

The family doctors withdrawing patient services they're not being paid for.

Duration: 07:34

DRIVERLESS UBER

Uber is testing driverless taxis in Pennsylvania.

Duration: 06:44

ETHICAL CARNIVORE

Is it possible to be an ethical carnivore?

Duration: 05:38

POSTGRADUATE FUNDING

New funding arrangements for Masters students.

Duration: 06:38