Main content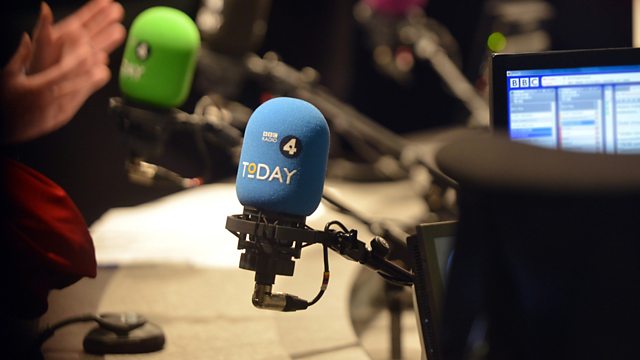 17/09/2016
Morning news and current affairs. Including Yesterday in Parliament, Sports Desk, Weather and Thought for the Day.
Last on
Today's running order
All timings subject to change
0709
Motorists caught using mobile phones while driving in Britain are to face "much tougher penalties", with fines and points doubling. Louise Ellman MP is chair of the Transport Select Committee.
0713
The Defence Secretary, Sir Michael Fallon, has been warned by a former senior military commander that Britain's armed forces are ill-prepared to defend the UK against a serious military attack. Jonathan Beale is the defence correspondent.
0716
Rucksacks will be banned from the world's biggest beer festival which is due to start today in Munich. The city authorities have fenced off the site of Oktoberfest amid fears that the event could be a target for Islamist terrorists. Berlin correspondent Jenny Hill reports.
0720
A descendant of the most famous fighter pilot of the First World War will meet with the relatives of the two men who became his first 'kills'. Baron Richthofen is the nephew of the Red Baron, who shot down 80 allied planes during his career as a fighter pilot. Jill Bush is the descendant of 2nd Lieutenant Lionel Morris, who died after being shot down by the Red Baron on this date in 1916.
0730
The United States and Russia have both said they want a four-day old ceasefire in Syria to be extended, but have accused each other of not doing enough to make it work. Middle East editor Jeremy Bowen is in Aleppo.
0737
On Any Questions last night the UKIP donor Aaron Banks said he spent last night skinny dipping with Nigel Farage. Andrew Welch is the commercial manager of British Naturism.
0747
In this week's Meet the Author, Jim Naughtie meets stand-up comic Stewart Lee to talk about his new book Content Provider.
0750
Four years ago the government closed its in-house facilities to carry out forensic investigations in England and Wales. Private companies and individual police forces took over the responsibility. Today, a committee of MPs has released a report damning the forensic science strategy for being vague, incomplete and lacking a vision or a clear plan for delivering improvements. Dr Tania Mathias MP is acting chair of the Science and Technology Committee.
0810
UKIP's new leader Diane James is facing claims she will find it "difficult to define herself" as predecessor Nigel Farage said he was "not going away". Ko Barclay is one of UKIP's biggest donors.
0818
Magazine editors and the fashion columnists with 25 years' experience under their belt are being superseded by the bloggers and Youtubers whose millions of followers cling onto every tap of their keyboard. Susie Bubble is a fashion blogger and Hilary Alexander is a veteran fashion writer.
0824
The Paralympic games ends with a big closing ceremony on Sunday after which the British team will return home with a bigger haul of medals than they won in London in 2012. Tim Hollingsworth is chief executive of British Paralympic Association.
0835
Drivers are to face "tougher penalties" if caught using mobile phones while driving in Britain. Darrell Martin's brother Lee was killed by a driver who was texting. Stephen Hammond is the former parliamentary under-secretary of state for transport.
0846
The armed forces are ill-prepared to defend the UK against a serious military attack, a senior commander has warned the defence secretary. Major General Tim Cross served in the British Army for 40 years, commanding troops in Iraq before retiring.
0851
A judge has ruled that an autistic man from Suffolk who is accused of hacking into US government computers can be extradited to America to stand trial.  Lauri Love has Asperger Syndrome and is accused of stealing data from agencies including the Department of Defence, Nasa and the FBI. Reverend Alexander Love is Lauri Love's father.
Broadcast