Main content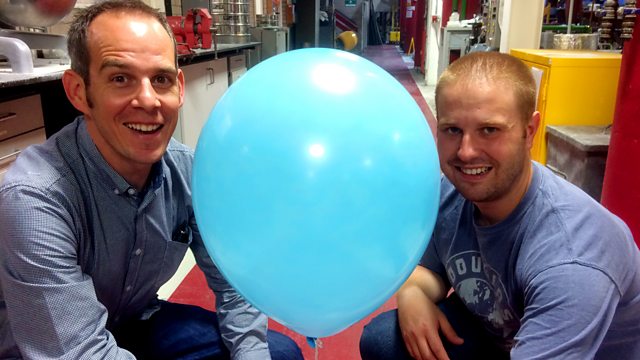 The Science of Roald Dahl
Adam Walton and John Rutledge explore the science behind Roald Dahl's stories for children, from the number of balloons it takes to lift Mrs Twit, to the BFG's dream jars.
The Science of Roald Dahl
Roald Dahl's stories overflow with fantastical ideas, with bizarre and wonderful worlds and extraordinary inventions. In his universe, peaches grow to the size of houses, sweets are exciting and magical, elevators can travel into space and dreams are captured in jars.
His books have inspired generations of children, fired their imagination and dared them to think about the world around them in a different way. And that's exactly what science should do too. The best science is all about creativity, imagination and thinking at right angles to everybody else.
In this week's programme, as part of Radio Wales' celebration of Roald Dahl's centenary, Adam is joined by John Rutledge to apply a little science to some of the amazing ideas in Dahl's children's books.
John's first challenge from Adam is to find out exactly how many balloons it would take to lift Mrs Twit. In The Twits Roald Dahl says that it took sixty balloons. John meets Dr. Ryan Marks, an aerospace engineer at Cardiff University. Especially for Science Café, Ryan creates an app, the Mrs Twit Balloon Calculator. And once they have the theoretical number, John and Ryan devise an experiment to test the theory. No Twits were harmed in the making of this programme.
Meanwhile, Adam meets Bangor University psychologist Dr. Dusana Dorjee to consider how to create the BFG's dream jars. Dusana tells Adam about lucid dreaming, a way in which you can become aware that you're dreaming and control what's happening in your dream.
Finally, John investigates how you might recreate Willy Wonka's amazing invention which packed a three-course meal into a piece of chewing gum. He enlists the help of neuroscientist Dr. Dean Burnett from Cardiff University. They don't succeed in recreating the chewing gum but they do discover how your sense of taste can be fooled – or changed!
We also hear from Damian Walford Davies, Professor of English at Cardiff University. He considers Roald Dahl's particular interest in medical science and how it was influenced by a series of accidents and tragedies which affected Dahl and his family.
Featured in...
Exploring the life, stories, and characters of Roald Dahl, as we mark his centenary.