Main content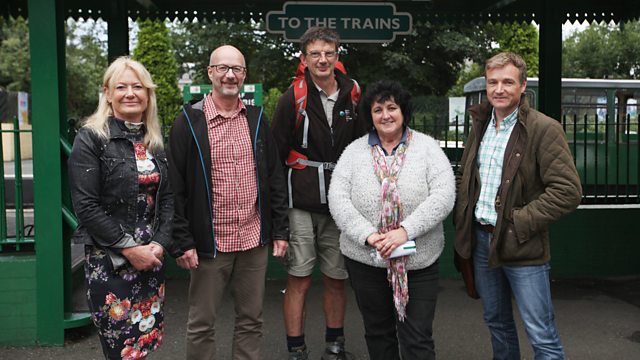 Snowdon
Peter Gibbs presents the horticultural panel programme from Snowdon. James Wong, Chris Beardshaw and Pippa Greenwood answer questions from atop the mountain.
Produced by Dan Cocker
Assistant Producer: Hannah Newton
A Somethin' Else production for BBC Radio 4.
Fact Sheet
Q – We live on an exposed and windy site. What can the panel recommend for my wall baskets?
Pippa – Houseleeks (Sedums or Sempervivums).  Drainage needs to be good though.  Dwarf narcissus eg Tête-á-Tête, the sturdy little Daffodils, would be good too.
Bunny – You could train Ivy up a rope.  I like the 'Cristata'.  Thyme and other herbs would be good.  Or Holly.
Chris – Rosmarinus prostratus – to cascade over the basket.  You want flexible plants. 
Q – What should I do with my Clematis now that it has finished flowering?
Chris – Find out which type it is first because they do behave differently.  Early flowering ones like Alpinas and Macropetalas you want to trim them right down as soon as they've finished flowering.  But with hybrids you leave the structure and then the side shoots bear the flowers.
Q – I want to introduce Asparagus to my allotment plot. Advice please.
Pippa – You need to make sure that the land doesn't get too wet or too dry.  And you should expect a good crop for two or three years. 
Q – Can the panel suggest exotic-looking but hardy shrubs/small trees that would tolerate strong coastal winds?
Bunny – Chusan Palm (Trachycarpus fortunei).  Also, Trachycarpus fortunei 'Wagnerianus'.  Agapanthus. 
Chris – Crocosmias.  Also, Clerodendrum bungei.  Sasa veitchii – bamboo relative.  Gorse is a fail safe too.
Q – I've read that it's possible to grow Turmeric as an indoor plant. Is it and have you done it?
Panel – No!  But give it a go!
Q – When collecting seeds how do you determine whether seeds are ripe and ready to be sown or whether you need to wait?
Pippa – Try and see when the capsule/pop looks ripe because then the seed should be.  Start accumulating paper bags to pop round nearly-ripe pods to catch the seeds.  If you have heavy/wet soil then wait till drier.
Chris – Some plants require a continuous period of 'treatment' to break down the outer part of the seed and allow moisture/gaseous exchange to take place.  Holly or Crataegus, for example, needs a period of chilling.  Proteas need a period of heat and they need smoke particles to mix with water and permeate the outer layer.  Some plants need to be ingested by animals. Most seeds can be collected and sown fresh at any time but you are exposing the seed to an environment in which it isn't currently growing – which could be detrimental – so we wait for optimum conditions. 
Q – I have knee and back problems.  Can the team recommend tools/tips to minimise the necessity for bending?
Bunny – Raised beds. Long-handled tools.  Battery-operated hedge trimmers are much lighter than older styles. 
Q – We live close to a river. Can you recommend perennials that would survive occasional flooding?
Chris – Geraniums do well in the wet.  Geranium phaeum for example.  They won't like summer flood though.  Delphiniums can survive and actually thrive on the silt deposit. 
Bunny – Astrantia 'Jill Richardson'.  Salvia uliginosa. 
Pippa – Astilbes.  Try Bog Irises too. 
Q – I've given up growing potatoes due to holes caused by slugs.  Nematodes are too costly surely, what else can I do?
Pippa – Keeled slugs are doing this.  First, comb the catalogues for resistant varieties.  Nematodes aren't cheap but they are great and if you time the application carefully it won't be too pricey.  Nematodes last in the soil for about six weeks so pop the nematodes in six weeks before your expected harvest date. 
Bunny – Copper pipe really deters them. Coffee grounds are good. And strulch too.