Main content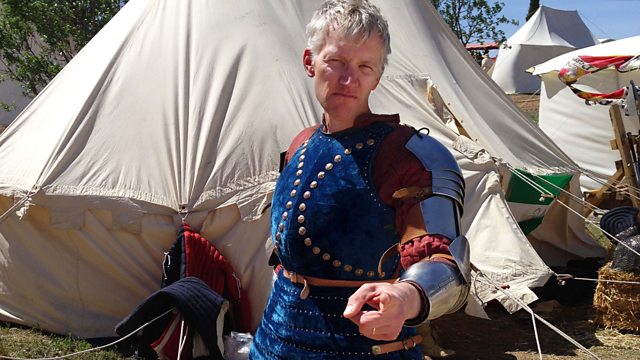 13/09/2016
Hungary '56, a refugee crisis in 17th century London and Lord Paddy Ashdown goes behind enemy lines.
Tom Holland is joined by Rebecca Rideal and Dr Tom Lorman to discuss armed revolt, fire and a secret war.
Helen Castor meets up with a witness to the Hungarian Revolution of sixty-years ago and we discuss the changing attitudes to refugees.
In London, Dr Tom Charlton is joined by Professor Vanessa Harding and Professor Justin Champion in what became the 17th century equivalent of the Calais 'jungle' - a refugee camp created by the Great Fire of 1666 which was occupied for years.
And Lord Paddy Ashdown makes the case for a forgotten hero to be remembered on the Making History plinth - the wartime SOE's Roger Landes.
Producer: Nick Patrick
A Pier production for BBC Radio 4.
More information
Tom Holland and guests discuss the stories that are Making History. Joining Tom today is the author of "1666: Plague, War and Hellfire", Rebecca Rideal  and from the School of Slavonic and East European Studies, University College London, Dr Thomas Lorman
Rebecca Rideal https://rebeccarideal.com
Thomas Lorman  https://www.ucl.ac.uk/ssees/people/thomas-lorman
Hungary '56
This October marks the 60th anniversary of the first real threat to the Soviet Union, the Hungarian Revolution. Between 23rd October and 10th November 1956 over 2,500 Hungarians lost their lives and some 200,000 were forced to flee the country. Helen Castor caught up with one of these refugees, Bob Somogyi, who has a 15 year old boy in Budapest remembers how the uprising started, how the Soviets reacted and the dangerous trek to escape.
The History Learning Site  http://www.historylearningsite.co.uk/modern-world-history-1918-to-1980/the-cold-war/the-hungarian-uprising-of-1956/
Eyewitness to History  http://www.eyewitnesstohistory.com/hungarianrevolution.htm
Local Life  http://www.local-life.com/budapest/articles/1956-hungarian-uprising
Making History also consulted Professor John Callaghan from the University of Salford http://www.salford.ac.uk/arts-media/arts-media-academics/john-callaghan
The Moorfields' 'Jungle'
In September 1666 the Great Fire of London destroyed more than 10,000 buildings and made between 70 and 80,000 people homeless. What happened to all these people is rarely discussed. So, Making History packed off the historian of the Seventeenth Century, Dr Thomas Charlton, to meet the Professor of the History of London, Vanessa Harding and Professor Justin Champion who is President of the Historical Association in Finsbury Circus and area which, 350 years ago, was known as Moorfields and was home to thousands of homeless people for years.
Professor Vanessa Harding  http://www.bbk.ac.uk/history/our-staff/academic-staff/professor-vanessa-harding
Professor Justin Champion http://pure.rhul.ac.uk/portal/en/persons/justin-champion_bc6b0767-61c5-407a-aadb-578e3330dd06.html
Great Fire of London  http://greatfireoflondon.net/after-the-fire.html
Moorfields  https://en.wikipedia.org/wiki/Moorfields
The Telegraph  http://www.telegraph.co.uk/news/2016/09/05/how-the-great-fire-of-london-unfolded-350-years-ago-hour-by-hour/
Roger Landes
Lord Ashdown nominates Roger Landes of the Special Operations Executive for the Making History plinth where we remember those from the past who have been forgotten or air-brushed from the past.
Landes was one of key undercover agents working for the Allies in South West France and was responsible for organising the liberation of the city of Bordeaux.
Nigel Perrin's website  http://nigelperrin.com/rogerlandes.htm#.V9evXjttRFI
The Independent http://www.independent.co.uk/news/obituaries/roger-landes-soe-agent-in-occupied-france-891449.html
The Telegraph http://www.telegraph.co.uk/news/obituaries/2463610/Roger-Landes.html
Lord Ashdown's book on the work of Roger Landes is called "Game of Spies' https://www.harpercollins.co.uk/9780008140823/game-of-spies
Making History is produced by Nick Patrick and is a Pier Production for BBC Radio 4