Main content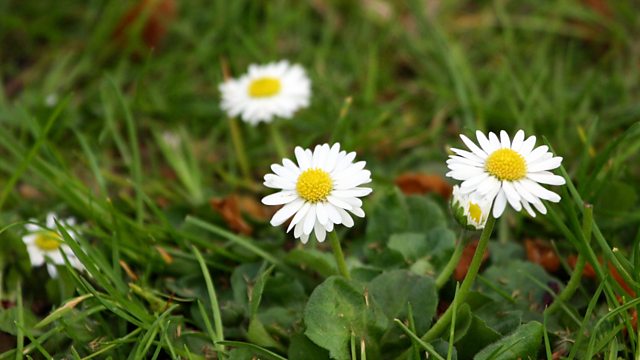 Fiona Stafford discusses daisies, which grow all over the planet, are near-indestructible and pest-resistant, and also have culinary and medicinal uses, including inhibiting HIV.
A new series of essays written and presented by experienced essayist, Fiona Stafford, Professor of Literature at Somerville College, Oxford. Following her three popular essay series The Meaning of Trees for BBC Radio 3, Fiona explores the symbolism, importance, topicality and surprises of five of the UK's most common flowers. Across the series of essays, our ambiguous relationship with some of our best known and loved flowers is explored.
Daisies grow almost everywhere on Earth. They are pest-resistant and virtually indestructible, as anyone trying to eradicate them from a lawn knows. But this common little flower has many culinary and medicinal uses. The common daisy is nutritious and is increasingly used in salads, soups and many trendy restaurants. The leaves have for centuries been used in treating wounds, hence its other name, bruise wort. It contains many medicinal compounds, and was regarded as a wonder plant by herbalists in years gone by. Modern discoveries confirm its myriad uses, including a glycosidase inhibitor in the leaves which might have some antiviral agency against HIV. This common, magical flower now comes in many showy varieties, including the South African daisy, the gerbera, which in flower arrangements should have only an inch of water in the vase. If totally submerged, the stems absorb water which causes them to soften and droop.
Producer - Turan Ali
A Bona Broadcasting production for BBC Radio 3.
More episodes
Next
You are at the last episode