Main content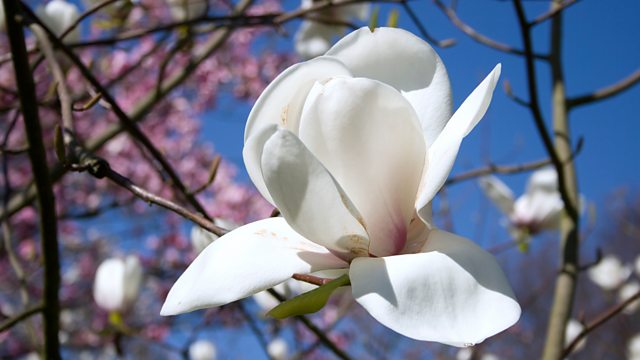 Professor Fiona Stafford discusses magnolias, which are among the oldest plants in the world, having evolving before bees or butterflies, and are used for food and medicine.
A new series of essays written and presented by experienced essayist, Fiona Stafford, Professor of Literature at Somerville College, Oxford. Following her three popular essay series The Meaning of Trees for BBC Radio 3, Fiona explores the symbolism, importance, topicality and surprises of five of the UK's most common flowers. Across the series of essays, our ambiguous relationship with some of our best known and loved flowers is explored.
Magnolias are amongst the oldest plants in the world. They evolved before bees or butterflies, hence they are pollinated by beetles and close at night to hold them inside to ensure pollination. A two-thousand-year-old seed was found in Japan and when planted it grew into an ancient magnolia. Other surprises include that they are used for food: the Chinese eat pickled magnolia, the whole flower buds boiled as a vegetable and the leaves as an aromatic flavouring. Medicinal properties of magnolias include having active ingredients that are antiseptic, and that inhibit cholesterol and melanoma. There are almost 1500 magnolia hybrids that come in many more colours from purple to yellow to white, pink or even brown - much more exciting and varied than the decorator's boring magnolia beige. Britain's National Magnolia collection is in Caerhays in Cornwall.
Producer - Turan Ali
A Bona Broadcasting production for BBC Radio 3.