Main content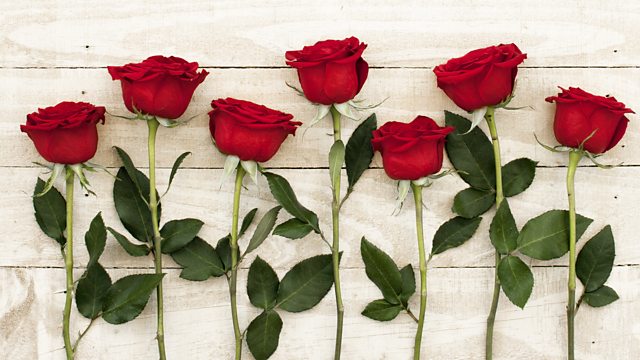 Fiona discusses the meaning of the rose, which goes far beyond a love symbol, to something that saved a country from ruin and brought about peace.
A new series of essays written and presented by experienced essayist, Fiona Stafford, Professor of Literature at Somerville College, Oxford. Following her three popular essay series The Meaning of Trees for BBC Radio 3, Fiona explores the symbolism, importance, topicality and surprises of five of the UK's most common flowers. Across the series of essays, our ambiguous relationship with some of our best known and loved flowers is explored.
Roses have been important to humankind since the beginning of human consciousness and are arguably the world's favourite flower. Their reputation for being the love flower has a chemical basis as roses contain a compound that slows down the decay of beta-endorphins, chemicals produced by people in love. We like to think of roses as quintessentially English, but actually the French lead the way in modern rose cultivation in the 19th century and the British, determined not to be outdone then started taking rose breeding very seriously indeed. From wild roses taken as the emblem of Elizabeth I, to the England rugby team's logo, to the white rose of the Jacobite cause, roses are woven into British history. Rose oil, which takes two thousand kilos of petals to produce one kilo of oil, is so valuable it saved Bulgaria after the first world war, paying for essential supplies from the USA when the government commandeered the entire national rose crop.
Producer - Turan Ali
A Bona Broadcasting production for BBC Radio 3.