Main content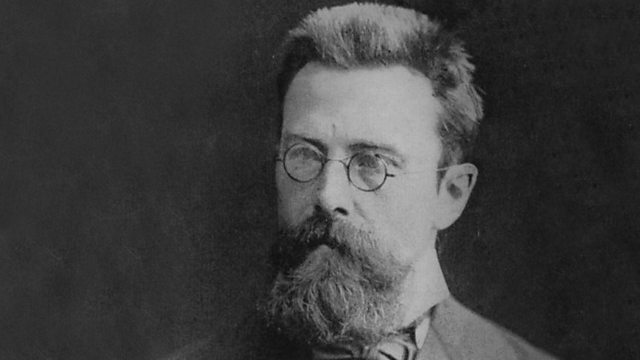 Donald Macleod describes how Rimsky-Korsakov drew vital inspiration for his operas from an evocative branch of Russian folklore.
How much can you tell about the way someone walks? Today we find Rimsky-Korsakov adorning a jubilee concert with his music and adopting an unusually solemn gait, a suggestion perhaps that even in these final decades his was typically more fleet of foot?
His music is finding a new pace too, inspired by the wonderfully evocative 'bylinas' from Russian folklore. As Donald Macleod discovers, these were to prove vital ingredients for the composer's operas.
A Toast
Moscow Symphony Orchestra
Igor Golovschin, conductor
Bylina of Dobrynia Nikitich
Russian Folk Song Chorus
Valentina Leonov, soloist
A Sveshnikov, director
Sadko - Tableau 1, excerpt
Larissa Diadkova, mezzo-soprano (Nezhata
Kirov Opera Chorus and Orchestra
Valery Gergiev, conductor
By the Sea
Mikhail Lanskoy, baritone
Ilya Scheps, piano
Christmas Eve (Tableau 3)
Elena Zaremba, mezzo-soprano (Solokha)
Viatcheslav Vionarovski, tenor (Le Diable)
Viatcheslav Verestnikov, baritone (Le Maire)
Alexei Maslennikov, tenor (Le Sacristain)
Stanislav Souleimanov, bass (Tchoub)
Vladimir Bogatchov, tenor (Vakoula)
Yourlov Academic Chorus
Forum Theatre Orchestra
Mikhail Yurovski, conductor
Producer: Michael Surcombe.