Main content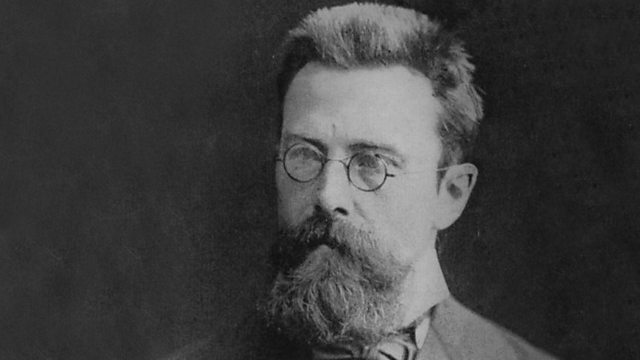 Donald Macleod explains how crippling doubts plagued Rimsky-Korsakov as he set about revising countless works of his.
Donald Macleod continues the story of Rimsky-Korsakov's final decades, with the help of a contemporary biography written by one of the composer's most ardent fans and collaborators. Crippling doubts plague the composer as he sets about revising countless of his works. Therapy comes in the form of ambitious plan to write musical theory, and also in the sounds of Wagner whose radical operas inspire Rimsky-Korsakov to find new ways of presenting his own national stories on the stage.
The Maid of Pskov (Overture)
Moscow Symphony Orchestra
Igor Golovchin, conductor
May Night - Act 1 Scene 6 'Hopak Scene'
Nikolaï Rechetniak, baritone (Kalenik)
Sveshnikov Academic Choir
Bolshoi Theatre Orchestra
Andrey Chistiakov, conductor
Capriccio Espagnol: Scena e Canto Gitano
Anthony Goldstone, piano
Caroline Clemmow, piano
String Quartet in F (1st movement)
Rimsky-Korsakov Quartet
Symphonic Suite 'Antar' (2nd movement)
Bergen Philharmonic Orchestra
Dmitri Kitajenko, conductor
The Snow Maiden (Act 1 conclusion)
Valentina Sokolik, soprano (Snow Maiden)
Lidya Sakharenko, soprano (Kupava)
Anatoly Moksyakov, baritone (Mizgir)
Grand Choir of the USSR Radio and TV
Moscow Radio Symphony Orchestra and Chorus
Vladimir Fedoseyev, conductor
Producer: Michael Surcombe.