Main content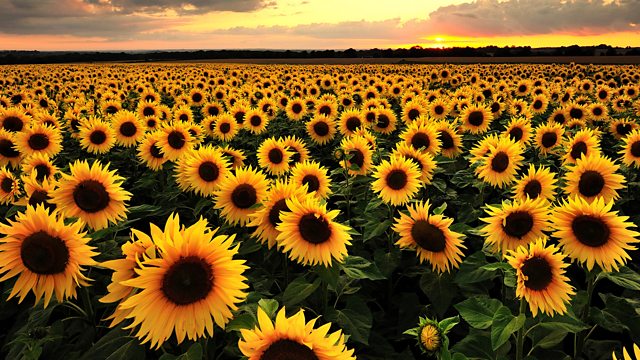 Fiona Stafford discusses the sunflower, a giant of a plant harvested in industrial quantities worldwide and which has been used in food, craft, art and literature for centuries.
A new series of essays written and presented by experienced essayist, Fiona Stafford, Professor of Literature at Somerville College, Oxford. Following her three popular essay series The Meaning of Trees for BBC Radio 3, Fiona explores the symbolism, importance, topicality and surprises of five of the UK's most common flowers. Across the series of essays, our ambiguous relationship with flowers is explored.
The sunflower is a shaggy giant of a plant that we harvest in industrial quantities worldwide. Humanity has used sunflowers in food, craft, art and literature for centuries. The sunflower was first domesticated around 1000 BC, but far from being a workhorse, the sunflower was once the flower of kings, prized by many royal houses as the emblem of their superiority. Sunflowers were also a significant symbol in the Holocaust.
Sunflowers are in fact not single flowers. Each sunflower head is built of up to 2000 flowers of two types - the black seed flowers which have no petals and the yellow ray flowers that do not form seeds. Sunflowers are distributed worldwide in 67 species, with sunflower seeds being eaten raw, cooked, roasted, or dried and ground for use in bread and cakes. Yellow dyes have been made from the petal "ray" flowers. The sunflower is destined to continue its economic importance as it is developed as a key crop for developing countries as a source of food, business and bio-fuel. Sunflowers have so many more hidden depths still to uncover.
Producer - Turan Ali
A Bona Broadcasting production for BBC Radio 3.
More episodes
Previous
You are at the first episode