Main content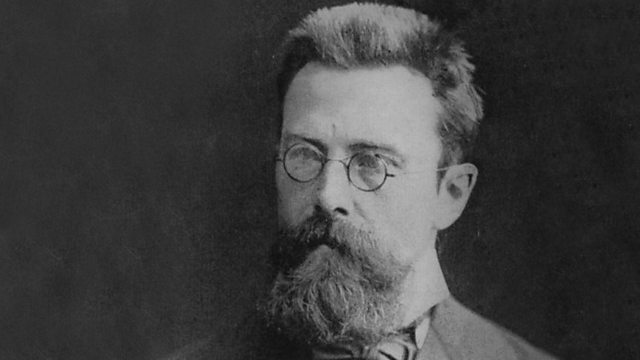 Donald Macleod begins an exploration of Rimsky-Korsakov's final years.
If Russian composer Rimsky-Korsakov is remembered for anything it's his endlessly reworked showstopper 'The Flight of the Bumble Bee' trotted out by every instrumental virtuoso under the sun just to show how nimble his or her finger-work might be. And if there's any exploration beyond that it tends to focus on his early years as a member of 'The Five', a mighty coalition of Russian composers intent on forging a new path for their national culture.
But thanks to a memorable personal encounter Rimsky-Korsakov's later story is quite different. In his 40s he met his 'Boswell', a biographer who came to admire his subject every bit as much as Dr Johnson's personal chronicler.
This week Donald Macleod explores Rimsky-Korsakov's final years through the lens of that man: Vasily Vasilyevitch Yastrebtsev. The two men mirror each other. Yastrebtsev is a natural musician, halted in his ambition by laziness; Rimsky-Korsakov launches his career as an amateur, but lifting himself to the highest musical peaks through sheer dedication.
But during the week we also discover a man plagued by doubt and prone to revision. Despite that, his mastery of the orchestra and determination to find new ways of communicating drama through music are destined to leave an indelible mark on Russian musical history.
Fantasia on Serbian Themes
USSR State Academic Symphony Orchestra
Evgeny Svetlanov, conductor
Scheherazade (final movement)
New York Philharmonic
Glenn Dichterow, violin
Kurt Masur, conductor
Mlada (Act III Scene 4-5)
Vladimir Markov, tenor (Yaromir)
Great Choir of the All-Union Radio
Bolshoi Symphony Orchestra
Evgeny Svetlanov, conductor
Russian Easter Festival Overture
Seattle Symphony
Gerard Schwarz, conductor
The Beauty, Op 51 No 4
Alexey Martynov, tenor
Aristotel Konstantinidi, piano
Producer: Michael Surcombe.
More episodes
Previous
You are at the first episode