Main content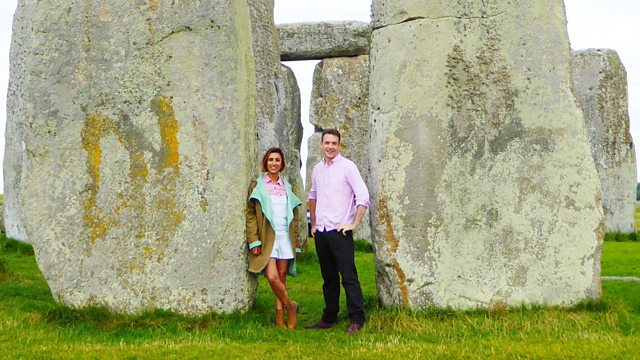 Wiltshire
Countryfile has been given access to an excavation at the Stonehenge World Heritage site, and Joe Crowley meets the team who have found strange items buried in the soil.
Countryfile has been given privileged access to an excavation at the Stonehenge World Heritage site. Joe Crowley meets the team who have discovered strange oblong items buried in the soil at Durrington Walls, not far from the famous stones of Stonehenge. The team used the latest ground-penetrating radar techniques to reveal the hitherto unknown features. But what are they? Joe finds out. He also meets archaeologist Julian Richards, a world authority on the stones and an obsessive collector of Stonehenge memorabilia. Joe then meets Hugh Morrison, a tenant farmer at Stonehenge, to see just what sort of problem he faces farming on a World Heritage Site.
Anita finds out how Neolithic farmers lived by visiting reconstructions of the types of houses they lived in, and she learns to bake bread the Neolithic way - on an open fire in the centre of a Neolithic dwelling. She also meets the modern-day farmer who has built a Stone Age long barrow on his land where people can inter the ashes of their loved ones, just as Neolithic man would have.
Also in this programme, John is joined by fellow judges Deborah Meaden and Simon King to select the final 12 pictures in the Countryfile Photographic Competition, and in a nod to the competition's theme, we spend a day with Adam seeing what happens on his farm 'From Dawn till Dusk'.
Durrington Walls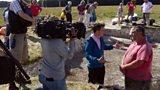 Countryfile has been given rare access to the excavation at Durrington Walls, the site of one of the largest Neolithic settlements in Europe, a few miles away from Stonehenge. Joe Crowley meets Dr Nick Snashall, Archaeologist for the National Trust and Mike Parker Pearson of UCL Institute of Archaeology, part of the team behind the astonishing archaeological project. Using the latest technology they have discovered strange objects buried under the soil. But what are they?
Explore the landscape and walk from Stonehenge to Durrington Walls
Neolithic life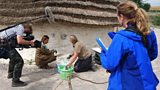 Anita Rani steps back in time to find out what life would have been like for Neolithic people. Sue Martin shows Anita ancient plastering techniques. Anita also meets Dineen Hopper, Chessie Turner and Flo Brookes, all English Heritage volunteers who educate visitors about Neolithic life and they show off their skills for Neolithic crafts. It's been 30 years since Stonehenge became a World Heritage Site and the site covers 25 square kilometres. Anita talks to English Heritage Senior Properties Historian Susan Greaney and discovers it is not just the stone circle that needs protecting.
Dawn till dusk with Adam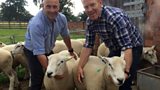 Summer's a busy time of year for farming folk and this week Adam's got plenty on. Early morning and he's off to buy some new rams for his commercial flock then it's back to the farm for shearing and harvest if the weather holds out. There's plenty of other work to be getting on with day or night!  
Farming Stonehenge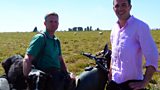 Joe Crowley meets Hugh Morrison, a tenant farmer at Stonehenge, to find out the challenges he faces farming a World Heritage Site. Under the National Trust's guidance, Hugh has turned over many acres to open grassland which is thriving with wild flowers and birds. Managing the farmland is a family affair as Joe meets 15 year old Molly, who helps her dad topping the grasses covering the Bronze Age burial chambers that litter his hillside. 
A modern long barrow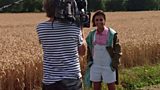 Anita meets Tim Daw, a farmer who has taken diversification to a whole new level, by building a modern day long barrow on his land in the Marlborough Downs. Ancient long barrows were used to store their ancestors' remains. Tim shows Anita around his long barrow and she sees first hand why 90% of the niches have already been reserved. She catches up with Simon Banton who helped build and align the long barrow with the stars.
Stonehenge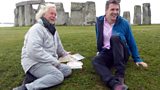 Stonehenge is a place of wonder which has captivated people's imaginations for thousands of years. Joe Crowley gets up close up to the stones and meets the leading authority and life-long Stonehenge aficionado Julian Richards. He shows Joe his favourite items from a personal treasure trove of Stonehenge related memorabilia. Acknowledging that archaeology may never unravel all Stonehenge's secrets only adds to Julian's passion for the place.
Credits
| Role | Contributor |
| --- | --- |
| Presenter | Joe Crowley |
| Presenter | Anita Rani |
| Presenter | John Craven |
| Presenter | Adam Henson |
| Judge | Deborah Meaden |
| Judge | Simon King |
| Executive Producer | William Lyons |
| Series Producer | Joanna Brame |