Main content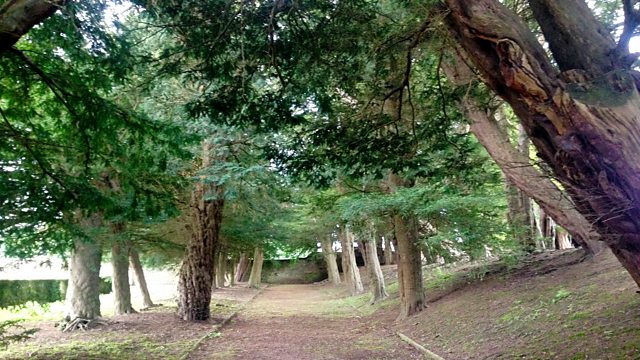 Stonyhurst College
Eric Robson and the panel visit Stonyhurst College, Lancashire. Chris Beardshaw, Anne Swithinbank and Christine Walkden answer this week's horticultural queries.
Produced by Hannah Newton
Assistant Producer: Laurence Bassett
A Somethin' Else production for BBC Radio 4.
Fact Sheet
Q – I grow 'Tumbling Tom' the cherry tomato in a hanging basket, can the panel suggest any other fruits or vegetables that would work well in a hanging basket?
Christine – There is a good runner bean called 'Hestia' and smaller container-courgettes would work well too.
Matthew – Gherkins, they produce long runners. Buy them as cornichon seeds. You could also try Cucamelons – grow very well in greenhouses. Alpine strawberries also work well.
Q – Why does my honeysuckle not flower?
Christine – Instead of using organic matter, use a liquid feed and spray it with tomato fertiliser every week for one season. That is a high pot ash feed and should help.
Anne – Have a really good look at the soil at the base of the plant to find out whether it is a good soil, which could be overfeeding the plant, or whether it is poor soil. If it is too dry, then the plant is being dried out by the wall – that will have prevented it from flowering.
Q – I have a purple azalea with damage on the leaves after flowering has finished. What is wrong with it?
Christine – It is an early stage of azalea gall – the swollen leaves will produce spores and become white and furry. It is caused by an insect which sticks its proboscis into the leaf and causes considerable generation of deformed tissue. You can pick the leaves off and it should go back to being healthy.
Q – My garden is very boggy, do the panel have any recommendations for plants that work in boggy, clay soils in sun and semi-shade?
Matthew – You can grow Rheum palmatum, which is a type of plant that produces rhubarb-like leaves. You can plant large, statuesque plants and even put a deck walkway over the top of it.
Anne – You can grow Rodgersia aesculifolia, which has leaves similar to a horse chestnut. The summer snowflake (Leucojum) is successful in boggy, clay conditions. Also Osmunda regalis, the royal fern.
Christine – Veratrum – albums, nigrums and viride. Iris ensata, Astilbe, Trollius chinensis and bog Mimulus all grow well in boggy conditions.
Q – I built an 8ft by 4ft (2.4m by1.2m) pond and the water has turned green. I have planted marginals and added goldfish – I don't want to use a filter; do you have any ideas how I can make the water clear again?
Christine – As it is a young pond, it will take some time to naturally balance itself. The marginal plants will help and make sure it has the right amount of shade. If there isn't enough shade, then the water will heat up and create an attractive environment for the algae.
Matthew – Barely straw is fine provided you remove it at the right time. It will help to absorb the algae nutrients out of the water but it will start to break down and reverse the process if it is left for too long. The pond's depth (2.5ft or 0.8m) means that the temperature at the bottom of the pond will not be consistent – if a pond's depth is 1m or more then it should stay at roughly the same temperature throughout the year.
 Anne – Pygmy Water Lily would do a good job in a pond of that size. Also the Water Soldier (Stratiotes) hang over the side and create shade effectively. You could plant something next to the pond which will create shade during the hottest part of the day.
Q – I am trying to establish Hipberry, a collection of shrubs and trees with hips and berries, in a small paddock area, I want to provide autumn colour and food for the birds. What plants would you recommend?
Christine – Amelanchiers covers all of the criteria. All of the Mountain Ash varieties (Sorbus) will also work well.
Anne - Malus Golden Hornet would be a good one, it is a very perfuse crab apple. You could also grow fruits that you can eat, you can try Worcester berry and Jostaberry, white currants and gooseberries. You can cover them individually with a bit of mesh to let some fruits ripen.
Matthew – Hawthorns are good here such as Crataegus prunifolia – it produces brilliant berries and spectacular autumn foliage. There's a north American hawthorn called Crataegus pedicellata, which I'd also strongly recommend.
Q – We have had some problems with rats in our village and been advised to stop using compost heaps, what would the panel advise?
Christine – You could use a grid at the bottom to stop the rats getting in. Don't put cooked food in the compost heap.
Anne – I would switch to using enclosed plastic compost bins. I have had good success with rotating ones.
Matthew – I would write to the local authority to ask for more advice and better composting facilities – you could put your material in a sealed wormery unit.
Q – Is it common for pear and plum trees to take turns having good seasons?
Christine – I think it might be biannual bearing, where one year you get exceptional fruit and the next there is much less.
Q – Do you have any suggestions for appropriate plants to help extend the season for bees, for early spring or later into autumn?
Matthew – For later in the season, a big group of plants are the daisies (asters), they rely on short day length to initiate their flowering.
Christine – Ivy in its right place is ideal: you can always use it as ground cover. To create more colour, you can use Hesperantha coccinea and Irenes to attract certain insects. Winter bulbs such as crocuses and cyclamen – both hederifolium and coum. All of the smaller species like narcissus juncifolius and narcissus bulbocodium will do really well. Avoid double and complex flowers.
Anne – For earlier in the season you cannot beat the species Crocus – especially tommasinianus. There are also the soldiers and sailors or pulmonaria – they open their flowers very early. For the end of the season don't forget the Bonesets (Eupatorium). Also marjoram and oregano will be popular with the bees too.
Q – What are the teams most hated flowers?
Anne – Photinia red robin – it produces strangely coloured leaves for the spring that don't match the other spring garden colours.
Matthew – Mine is Berberis thunbergii – they grow very unpleasant thorns.
Christine - Coleus canina – it is supposed to scare away cats and is grey, furry and doesn't smell nice.