Main content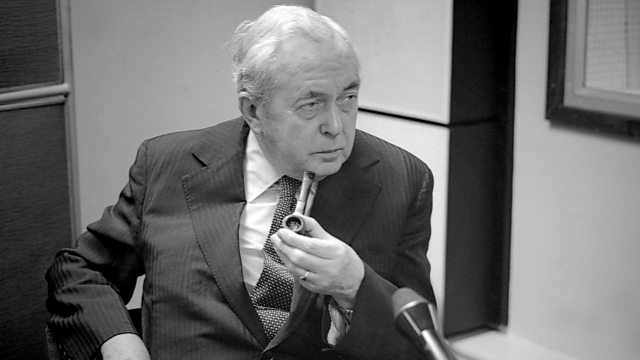 Harold Wilson's Pipe and Mac
David Cannadine explores political fame and defining objects: Harold Wilson's pipe and mac made and broke his image. From 2016.
Professor Sir David Cannadine explores political fame and image by looking at how an object or prop, whether chosen deliberately or otherwise, can come to define a political leader - from Winston Churchill's cigar and siren suit to Margaret Thatcher's handbag.
Sir David looks at the significance of these props of power - what they mean and what they become, and what happens when, almost inevitably, Prime Ministers lose control of their image and their props take on a hostile meaning, very different from their original intentions.
Harold Wilson sought to enhance his political image, in part by wearing a Gannex mac which made him seem ordinary, and also by puffing at his pipe, as memorably expressed in Ruskin Spear's 1974 portrait of him.
Following Stanley Baldwin, who had also made much of his pipe, Harold Wilson hoped to convey an image that was homely, benevolent and avuncular, and to some extent he succeeded. But the unintended consequence was that the pipe also enhanced Wilson's reputation for evasiveness and deviousness. Whenever asked a difficult question by an interviewer, he would delay and distract attention by lighting up - and it was widely believed that, although he puffed his pipe in public, he preferred cigars in private. A rumour that his son, Robin Wilson, scotches.
The Gannex mac was also to become a hostage to fortune for Wilson. While he was the peak of his popularity, the Gannex made him look like a man of the people and the millionaire businessman who invented Gannex, Joseph Kagan, became a close friend of Wilson. But once Kagan fell from grace due to his crooked business dealings, Wilson's Kagan connection was further evidence to his enemies that he was not to be trusted.
Producer: Melissa FitzGerald
A Blakeway production first broadcast on BBC Radio 4 in September 2016.
Last on
More episodes
Next
You are at the last episode
Broadcasts