Main content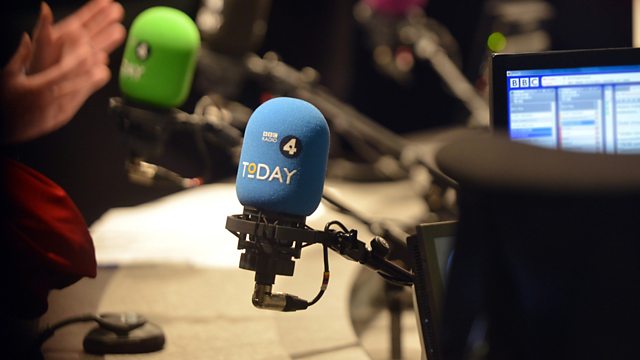 06/09/2016
Morning news and current affairs. Including Yesterday in Parliament, Sports Desk, Weather and Thought for the Day.
Last on

Today's running order
All subject to change
0658
Taking vitamin D supplements could significantly reduce the risk of severe asthma attacks for some asthmatics, health experts have found. Adrian Martineau is a clinical professor of respiratory infection and immunity at Barts and The London School of Medicine and Dentistry, and lead author of the Cochrane review.
0709
There is one day to go until the opening ceremony of the Paralympic Games in Rio. The Games will run for 12 days, ending on the 18th of September. Sir Philip Craven is president of the Paralympic Association.
0715
The British Medical Association has called off the junior doctors' strike due to take place in England next week amid concerns about patient safety. Dr Rachel Clarke is a junior doctor in Oxford and Dr Karol Sikora is a cancer specialist and dean of the University of Buckingham's Medical School.
0723
The theory that women get paid less than men because they are not sufficiently pushy in the workplace is not true, a new study suggests. Dr Amanda Goodall is the co-author of the paper and senior lecturer in management at Cass Business School.  
0733
First Minister Nicola Sturgeon is to set out her programme for government with education at its heart. Stephen Gethins MP in SNP spokesperson on Europe in Westminster.
0742
As children return to school this week, social media has been flooded with photos of smart children in brand new school uniforms, usually posed in front of a door. Are children happy about their pictures going online? Arthur Edwards is The Sun's Royal Photographer and Katie Kirby is author of the forthcoming book Hurrah for Gin – a humorous take on the experience of parenting.
0750
Will the Paralympics beginning in Brazil tomorrow open to a full house of spectators? Eduardo Dos Santos is the Brazilian ambassador to the UK.
0810
More than 200 people have been prosecuted in the past year for sending private sexual images of someone without their consent. Chrissy Chambers was a victim of the crime and Alison Saunders is the director of Public Prosecutions.
0820
This year has been writer John le Carre's most successful on record, selling a book every two minutes and reaching millions of new fans with the BBC series The Night Manager. Susanne Bier is director of The Night Manager and Tony Parsons is an author and fan.
0836
The job name for middle aged people returning back to work after a long break is being termed 'returnships', especially for women returning to work after having children. Julianne Miles is the co-founder of the Women Returners, an organisation that helps women back to work after career breaks and Rachel Tomkins, manager of Thames Tideway Tunnel.
0842
South Africa seems to be on the brink of a political revolution. The ANC - the party of Nelson Mandela, the party that has dominated every aspect of political life since the end of apartheid - is losing its grip on the country. South Africa correspondent Karen Allen reports from Johannesburg.
0847
Last night's Panorama reported a series of safety concerns at Sellafield in Cumbria – including that radioactive plutonium has been stored in degrading plastic bottles. Laurence Williams is the chair of the committee on Radioactive Waste Management and Baroness Verma is the former minister at the Department for Energy and Climate Change.
Broadcast