Main content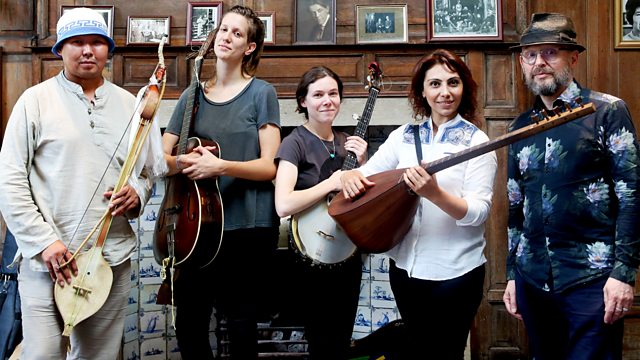 Anna & Elizabeth, Asiq Nargile and the Alash Ensemble in Session
Max Reinhardt presents a collaborative session from Craxton Studios, with Appalachian duo Anna & Elizabeth, saz player Asiq Nargile and Bady-Dorzhu Ondar from the Alash Ensemble.
Three disparate folk traditions combine in this exclusive Late Junction collaboration session, recorded in the music rooms of Craxton Studios, a turn-of-the-century house in north-west London.
Duo Anna & Elizabeth play Banjo, fiddle and guitar and draw their inspiration from the mountain music of Appalachia, vocalist and saz virtuoso Asiq Nargile is from the Asiq tradition in Georgia while Bady-Dorzhu Ondar from the Alash Ensemble is a master of harmonic Tuvan throat singing, a technique from the southern fringes of Siberia that allows each singer to produce multiple pitches simultaneously. Over the course of a day in the oak panelled rooms of Craxton studios the musicians worked on several pieces including a percussive tap performance from Anna Roberts-Gevalt and a harmonic Tuvan vocal piece from Bady-Dorzhu Ondar.
Also on the programme an exclusive recording of a new piece by British pianist Kate Halsall, Adam Rudolph's Go: Organic Guitar Orchestra, featuring 11 of New York City's guitarists and brooding improv from Austrian group Polwechsel.
Produced by Alannah Chance for Reduced Listening.