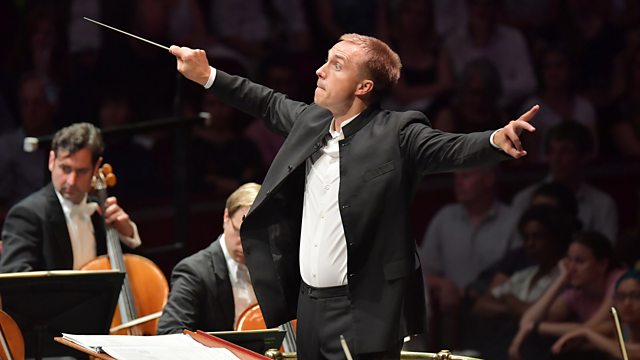 Prom 53: Emily Howard, Shostakovich and Rachmaninov
Afternoon on 3, presented by Penny Gore
The RLPO and conductor Vasily Petrenko in Rachmaninov's Third Symphony, Shostakovich's Cello Concerto No.1 and Torus by Emily Howard
Presented at London's Royal Albert Hall by Martin Handley
2pm
Emily Howard: Torus (Concerto for Orchestra) - BBC co-commission with the Royal Liverpool Philharmonic Orchestra: world premiere
2.20pm
Shostakovich: Cello Concerto No 1 in E flat major
2.50pm
Rachmaninov: Symphony No 3 in A minor
Alexey Stadler, cello
Royal Liverpool Philharmonic Orchestra
Vasily Petrenko conductor
'A composer's music should express his love affairs, his religion, the books that have influenced him, the pictures he loves.' So said Rachmaninov, whose Third Symphony does just that through irrepressible yearning and longing. It forms the culmination of this Prom in which the Royal Liverpool Philharmonic Orchestra and its Russian Chief Conductor perform Shostakovich's disquieting First Cello Concerto.
A brand-new work by Liverpool-born composer Emily Howard opens.
[First broadcast on Thursday 25th August]
Followed by a selection of music from this week's Proms artists.
Last on