Main content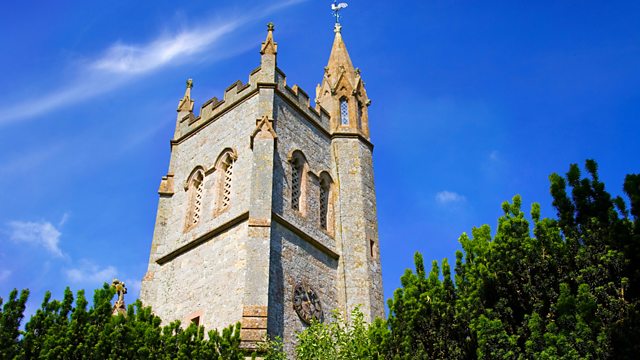 Phoenix from the Ashes
The bishop of London, Richard Chartres, preaches live from the fine Wren Church of St Stephen, Walbrook, London, to mark the 350th anniversary of the Great Fire.
The Bishop of London Richard Chartres preaches live from the fine Wren Church of St Stephen, Walbrook in the City of London, to mark the 350th anniversary of the Great Fire.
Early on Sunday, 2nd September 1666, a fire in a bakery near London Bridge became out of control and a strong wind fanned the flames westward. Not only the wooden houses, but warehouses, public buildings and churches were consumed in the fierce heat - molten lead running in the gutters, while stone was burnt to lime. The Great Fire destroyed over three quarters of the City.
A large number of the City Churches were rebuilt, many designed by Sir Christopher Wren, including one of his most famous, St Stephen Walbrook.
The ever increasing range and diversity of Christian worship in the City Churches today is celebrated in this act of worship, which includes contributions from some of the newer priests in the City, including Rev David Ingall from St Sepulchre's, and Revd Sally Muggeridge from St Stephen's. The service is led by the Priest-in-Charge of St Stephen Walbrook, Revd Jonathan Evens and music is sung by St Stephen's Voices, directed by Jeremy Cole, with organist Robert Mingay. The producer is Andrew Earis.
Script
This script cannot exactly reflect the transmission, as it was prepared before the service was broadcast. It may include editorial notes prepared by the producer, and minor spelling and other errors that were corrected before the radio broadcast.
It may contain gaps to be filled in at the time so that prayers may reflect the needs of the world, and changes may also be made at the last minute for timing reasons, or to reflect current events.
BBC Radio 4. It's ten past eight. The Bishop of London, Richard Chartres, is our preacher for Sunday Worship this morning which marks the 350th anniversary of the Great Fire of London and comes live from St Stephen Walbrook in the City of London. The service is led by the Reverend Jonathan Evens and begins now as the choir sings 'Hear my prayer O Lord', to music by the late seventeenth century composer Henry Purcell.

CHOIR: Hear my prayer, O Lord – Henry Purcell
RECORDED INSERT 1: ACTOR
 All the sky was of a fiery aspect, like the top of a burning oven, and the light seen above 40 miles round about for many nights. God grant mine eyes may never behold the like, who now saw above 10,000 houses all in one flame; the noise and cracking and thunder of people, the fall of towers, houses, and churches, was like an hideous storm, and the air all about so hot and inflamed that at last one was not able to approach it, so that they were forced to stand still and let the flames burn on.

JONATHAN EVENS
Welcome to St Stephen Walbrook, at the heart of the City of London.
This church was one of 86 of the City's 109 churches that were either destroyed or badly damaged by the Great Fire of London, the ferocity of which was evocatively described for us by the English writer John Evelyn in his diary entry made on Monday 3rd September 1666.
The scale of this disaster was staggering; 13,200 houses in 400 streets burnt down or demolished as firebreaks, leading to between 70 and 80,000 made homeless.
As the 350th anniversary of the Great Fire is commemorated this week through a wide range of exhibitions and events here in the City of London, we reflect on the reality of the horrors conjured up by natural disasters and pray for those who today are living through similar events.
Our commemoration of the Great Fire does not focus just on the horror of its destructive power but also celebrates the fact that the City rose like a phoenix from its ashes. The renewal of the City of London laid the foundation on which London became a world city. An experience of destruction followed by renewal parallels the experience of death and resurrection which is central to the Christian faith.
Let us pray.
Crucified and risen Jesus, may your experiences of death and resurrection give to us the assurance that you are with us in times of disaster and destruction, while also giving a source of hope for the future; hope that renewal and re-building will follow disaster and will bring new life and new opportunity to those who survive and endure.
Amen.
Henry Purcell was one of those who lived through the Great Fire. He wrote the tune to our opening hymn which acknowledges Christ as the sure foundation, in life and in death, in disaster and in renewal.

HYMN: Christ is made the sure foundation (3vv)
RECORDED INSERT 2: ACTOR
So down I went, with my heart full of trouble, to the Lieutenant of the Tower, who tells me that it began this morning in the King's baker's house in Pudding Lane, and that it hath burned St. Magnus's Church and most part of Fish Street already. So I rode down to the waterside, . . . and there saw a lamentable fire. . . . Everybody endeavouring to remove their goods, and flinging into the river or bringing them into lighters that lay off; poor people staying in their houses as long as till the very fire touched them, and then running into boats, or clambering from one pair of stairs by the waterside to another
SARAH
That was Samuel Pepys' vivid description of the first night of the Great Fire, and of the several days of blaze and destruction that followed. Within 24 hours of the fire breaking out, this church, St Stephen Walbrook, had burnt to the ground. The fire destroyed over three quarters of the city, taking homes and livelihoods with it. London was shattered and broken to pieces. On Monday 10th September 1666 writer John Evelyn's diary entry simply and starkly read, 'I went againe to the ruines, for it was now no longer a Citty.'
 
The human and economic effects were felt everywhere. But alongside mourning came the opportunity to transform London according to the ideals of the modern age. A commission was appointed by King Charles II to plan the rebuilding, with the aim of achieving, in the words of the proclamation, "a much more beautiful city than is at this time consumed".
Sir Christopher Wren and John Evelyn both submitted new plans for the City to the King. Some days later, in a letter to a friend, Evelyn wrote:
RECORDED INSERT 3: ACTOR
Both of us did concide so frequently, that his Majesty was not displeased with it, and truly there was never a more glorious Phoenix upon Earth, if it do at last emerge out of these cinders.
 
SARAH
In the spring of 1667 rebuilding commenced. Sir Christopher Wren was responsible for the construction of over fifty churches in the new London, including our own church here at St Stephen Walbrook. It was Wren's own parish church; he lived just a few steps along the road at number 15, Walbrook. Work began in 1672, the same year Wren commenced designs for St Paul's Cathedral, and the magnificent dome of this church was a perfect dress rehearsal for the great dome of the cathedral. Nowadays, the vast, bright dome is mirrored at ground level by our beautiful central Henry Moore altar circled by curved pews.
Wren considered geometry to be the foundation of all the world, a manifestation of God; he believed light to be the gift of Reason. Our church represents this combination of science and faith: a geometrically perfect building, where everyone sitting in our congregation sees perfectly and hears with crystal clarity. And still today, nearly 350 years on, with the morning light streaming through the windows, the power if God is, indeed, moving in this place.

CHOIR: Be still for the presence of the Lord (v1&3)
JONATHAN EVENS
The life of the City's churches is not simply to be found in buildings or heritage but in their vibrant Christian life and ministry. We are going to hear of two different snapshots. In a few moments, Revd David Ingall from St Sepulchre's, just up the road from here. But first, we hear from our Curate here at St Stephen's, Revd Sally Muggeridge, about an exciting new initiative here at St Stephen's.

RECORDED INSERT 4: SALLY MUGGERIDGE
During Roman times, the Walbrook was essential to Londinium for its fresh and clean spring water, with the nearby River Thames likely polluted by human and animal waste. Walbrook is now a busy pedestrian thoroughfare leading from Cannon Street Station, up towards the City, providing a key route for thousands of commuters.
We recently began a new initiative called 'Start:Stop', giving an opportunity for the many thousands of passers-by to begin the day by simply dropping in to reflect for just 15 minutes through a bible reading, prayer and meditation. People arrive at church with folding bikes, coffee in hand, heavy briefcases, many weary before the day begins – all are welcomed. It aims to offer an oasis of calm in a beautiful venue, before the onslaught of the working day. Tereza has been coming to Start: Stop for over a year now.
"The experience has been rather overwhelming. From my first visit, I have experienced a connection of body, mind, and soul, bringing me to tears. Tears of joy, joy of life. Start:Stop fills me with a sense of belonging and connectedness. It helps me to stay strong in the light of life, with an open heart, protected by God. It has brought me further on my journey of faith, a journey which is leading to me preparing to be baptised later in the year.

CHOIR: O Lord, increase my faith – Loosemore
DAVID INGALL
I always think that the rebuilding and restoration of so many churches after the Great Fire is a wonderful image of the new life and regeneration that is always going on in the church, as Jesus brings life through his Holy Spirit.
 
It's been my joy to be part of a moment of new life at our church, St. Sepulchre's.  Three years ago I joined a church full of musical life – the National Musicians' Church no less, with scores and hundreds of rehearsals, concerts and occasional services.  Yet as the church resounded to the music of Bach, Handel or Mozart, our worshipping life was less vibrant and regular.  The most significant thing about my arrival wasn't actually me at all – it was lots of others!  50 came with me, with the task of re-starting a worshipping community on Sunday mornings after a 30-year gap. It was a moment of new life and resurrection - but it wasn't just 'new', it was also old.  A vision to draw alongside all that was already going on, and seeing how to bring new life in worship, ministry and mission.  These days I love juggling old and new – concerts and choral worship one moment…alpha, worship with guitars, and 24/7 prayer the next.
 
My greatest joy though has been in seeing new life in people's lives, and the transforming power of Jesus Christ at the heart of our capital city. I finish with a story – of my friend Ralph. He's been homeless, he's been in rehab, he's done alpha, and now he's joined us at St Seps. He's met with Jesus, and discovered that new life. He's full of life and full of friends - and if you came along to our service later today, he'd be the one who greeted you with a big grin and a warm hello.

CHOIR: Bless the Lord, O my soul – Matt Redman

JONATHAN EVENS
Matt Redman's song, Bless the Lord, O my soul. In a few moments our preacher is the Bishop of London. But first, we hear words from Revelation, Chapter 21.

READING: REVELATION 21 (KATIE)
And I saw a new heaven and a new earth: for the first heaven and the first earth were passed away; and there was no more sea. And I John saw the holy city, new Jerusalem, coming down from God out of heaven, prepared as a bride adorned for her husband. And I heard a great voice out of heaven saying, Behold, the tabernacle of God is with men, and he will dwell with them, and they shall be his people, and God himself shall be with them, and be their God. And God shall wipe away all tears from their eyes; and there shall be no more death, neither sorrow, nor crying, neither shall there be any more pain: for the former things are passed away. And he that sat upon the throne said, Behold, I make all things new.
This is the word of the Lord
Thanks be to God.
 
SERMON
The Great Fire of London began in Pudding Lane and ended at Pie Corner. In view of its course, one radical preacher of the time interpreted the fire as a divine judgement on the gluttony of the City. Others among a traumatised population were ready to believe that the disaster was the result of a terrorist conspiracy.
London was the capital of a kingdom in which the memories of the Civil War were still vivid. There had been insurrections by supporters of the Cromwellian regime and rumours of plots hatched by an assortment of religious fanatics led by shadowy figures like the "Precious Man" and "Mene Tekel".
Plague had claimed many lives in the preceding 12 months, about one in five of the population unable to flee, had died. If that were not enough, the country was at war with the Dutch. In August 1666 Admiral Sir Robert Holmes had captured and burned West-Terschelling a town in the West Frisian Islands.
There were dire prophecies stimulated by the number of the beast in the book of Revelation 666. George Wharton the mathematician in his almanac for the year declared ominously if not very poetically, "Now sixtene hundred sixtie six is come when [as some say] shall be the day of Doome".
 
On Saturday September 1st the English Fleet caught up with the Dutch in Channel but a decisive engagement was frustrated by a violent storm which reached London in the early hours of Sunday September 2nd. The gale toppled chimneys and lifted thatch and a fire broke out on the ground floor of Thomas Farriner's bakery in Pudding Lane. The Lord Mayor was summoned but was unwilling to take decisive action to create fire breaks without the permission of neighbouring property owners. He declared that the fire was small scale and he retired to bed but the easterly wind soon carried the flames to the combustible naval stores in the warehouses and Thames-side wharves. Not only was there abundant fuel but it had been an unusually hot summer and everything was tinder dry.
There were no emergency services or police to call. London parishes were equipped with hooks, ladders, buckets and squirts and there were even primitive fire engines first introduced into the City in 1625 but they were heavy and difficult to manoeuvre. Such was the chaos they could not get into Pudding Lane. As one eyewitness said "the fire gets mastery and burns dreadfully and God with his great bellows blows upon it."
By Monday with the disappearance of the official Gazette and the destruction of the General Letter Office in Threadneedle Street, rumour had the field to itself and in the combustible state of public opinion blame was fixed on Dutch and French terrorists and there was an outbreak of xenophobic violence. The course of the fire and subsequent events are well described in Adrian Tinniswood's book, "By Permission of Heaven".
With the loss of the Guildhall, St Paul's Cathedral and the Exchange, the civic, religious and commercial centres of the City had been destroyed. The disappearance of the Custom House and Excise Office severely impaired the capacity of the government to bring in fresh revenue. The burning of the General Letter Office disrupted communications between London and the rest of the country. The loss of most of the Livery Company Halls and 86 churches threatened the social and economic infrastructure. With no insurance, charitable institutions like the hospitals were badly affected.           
     
But not for the last time, the City's resilience was remarkable. There was an officially inspired building programme as we have heard, but ordinary citizens moved even faster than officialdom and in some ways even thwarted the grand plans of Sir Christopher Wren and others.
The grandest cities of Europe like St Petersburg or the Paris of the Emperor Napoleon III were the creation of absolute governments. In England a host of little platoons between the individual and the state set to work to rebuild a city that remains fascinating in its diversity although infuriating to navigate in any kind of vehicle.
The destruction of more than 13,000 houses quickened interest in the provision of insurance, a mutual sharing of risk. In his new plan for London of 1667, Sir Christopher Wren included a site for "the Insurance Office" although it was not until the opening of Lloyd's Coffee House in the 1680's that the insurance market really took off.
The Great Fire was by no means the only time that London has faced destruction by fire. Word War II fire storms caused by bombing laid waste to much of the capital in and beyond the area affected in 1666. A massive effort of reconstruction followed in which once again the City Churches were brought back to life. Resilience and the capacity to overcome disaster depends, yes upon financial and material resources but also vitally on resources of the spirit, the courage and professionalism of our emergency services the fire fighters and the police;  the indomitable spirit of ordinary Londoners. 
Faith and confidence which means literally "having faith together" are as significant in building and rebuilding a city as bricks and mortar. Here in the City there have been times when faith has been relegated to the leisure sector. Not so long ago there was a crisis of confidence which called in question the importance of maintaining and developing the life of the churches rebuilt by Wren and his collaborators and restored after World War II. Plans were drawn up to close all but four of the City Churches but with renewed confidence in the centrality of faith to the life of the City we have witnessed an astonishing revival. You have heard some of the new ways in which a confidence in Jesus Christ has been turned into compassion and creativity as we seek to serve all Londoners irrespective of their place of origin or world view.   
           
 
In 1666 there was a search for scapegoats and one Robert Hubert confessed to having started the fire. Not even the Lord Chief Justice believed his confession but he was hanged nevertheless. 
Bishop Gilbert Burnet in his "History of My Own Times" remarked that "there are seasons of believing as well as of disbelieving and believing was then so much in season that improbabilities or inconsistencies were little considered". Resilience also consists in being able to deal with challenge and even disaster without resorting to scapegoating. This church like Sir Christopher Wren's Cathedral is his response, creative, beautiful and harmonious which has survived the years as an inspiration and a beacon of hope. And he that sat upon the throne said, Behold I make all things new.

ANTHEM (CHOIR): Morning glory, starlit sky – Barry Rose

JONATHAN
Morning Glory, Starlit Sky, with words by William Vanstone and music by Barry Rose. Our prayers are led by Revd David Ingall.
DAVID
Christ, who experienced the pain of crucifixion and the joy of resurrection, be with any who are currently experiencing the destruction of all that they have held dear and built their life upon. As you share their experience, lead them through this time of loss into a place and space of renewed life and rebuilding.
Lord, in your mercy, hear our prayer.
Christ, who shares our experiences of loss and grief, be alongside the people of Amatrice, in the shock of the quakes that have devastated homes and lives, and with the peoples of Syria, as bombs destroy buildings and prevent aid reaching those in need. May routes for relief and avenues for aid be opened up to enable relief from violence and the administration of aid to all in need.
Lord, in your mercy, hear our prayer.
Christ, who rose from death to renewed life, continue to revive your Church in the City, throughout London, and across the world, that renewal and revival may grow from the ground up in all societies and communities . May your words inform our speech as we discuss future plans and schemes for change and development. May your love influence our behaviour towards those with whom we work and to whom we deliver services and products. May your actions impact our activities inspiring new initiatives characterized by service of others and creative understandings of the common good.
Lord, in your mercy, hear our prayer.  
We say together the prayer that Jesus has taught us:
Our Father,
who art in heaven,
hallowed be Thy Name.
thy Kingdom come.
thy will be done
on earth, as it is in Heaven.
Give us this day our daily bread.
And forgive us our trespasses,
as we forgive those who trespass against us.
And lead us not into temptation,
but deliver us from evil.
For thine is the kingdom,
the power and the glory.
Forever and ever. Amen.

JONATHAN
Commemorating the three hundred and fiftieth anniversary of the Great Fire of London gives us opportunity to tell tales of strength renewed and hope restored and to tell the praise of him who called us out of darkness into light.

HYMN: Angel voices ever singing
BLESSING (Bishop)
The blessing of God almighty,. the Father, the Son, and the Holy Spirit,. be among you and remain with you always. Amen

ORGAN VOLUNTARY