Main content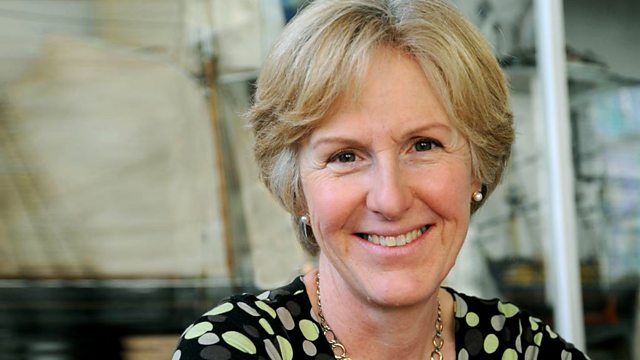 Proms 2011: Weber's Der Freischutz
Catriona Young presents Weber's act opera Der Freischutz performed in its French version at the 2011 Proms by the Orchestre Revolutionnaire et Romantique under John Eliot Gardiner.
Catriona Young presents Weber's three-act opera 'Der Freischütz' in its French version, as performed at the 2011 BBC Proms by John Eliot Gardiner and his musical team.
12:32 AM
Weber, Carl Maria von [1786-1826]
Der Freischütz (French Version, 1841)
Max ..... Andrew Kennedy (tenor)
Agathe ..... Sophie Karthäuser (soprano)
Kaspar ..... Gidon Saks (bass baritone)
Ännchen ..... Virginie Pochon (soprano)
Kuno ..... Matthew Brook (bass)
Kilian ..... Samuel Evans (baritone)
Ottokar ..... Robert Davies (baritone)
A Hermit ..... Luc Bertin-Hugault (bass)
Zamiel ..... Christian Pelissier (actor)
Monteverdi Choir,
Orchestre Révolutionnaire et Romantique,
Sir John Eliot Gardiner (conductor)
3:01 AM
Ravel, Maurice [1875-1937]
Trio for piano and strings in A minor
Altenberg Trio, Vienna
3:27 AM
Visée, Robert de (c.1655-c.1723/3)
Suite in A major
Yasunori Imamura (theorbo)
3:41 AM
Telemann, Georg Philipp (1681-1767)
Trumpet Concerto in D major
Friedemann Immer (trumpet), Musica Antiqua Koln, Reinhard Goebel (director)
3:48 AM
Barber, Samuel (1910-1981)
Adagio for Strings (Op.11)
Netherlands Radio Symphony Orchestra, Richard Dufallo (conductor)
3:59 AM
Gershwin, George [1898-1937]
Gershwin Rhapsody in Blue (transcribed for solo piano)
Benjamin Grosvenor (piano)
4:13 AM
Ritter, August Gottfried [1811-1885], Beethoven, Ludwig van [1770-1827]
Andante in A minor, Op.26 (arrangement of Allegretto from Beethoven Symphony No.7 in A major, Op.42)
Erwin Wiersinga (organ)
4:22 AM
Palestrina, Giovanni Pierluigi da (c.1525-1594)
Magnificat primi toni for 4 voices
Marco Beasley and Davide Livermoore (tenors), Fabian Schofrin and Annemieke Cantor (altos), Daniele Carnovich (bass), Diego Fasolis (conductor)
4:31 AM
Debussy, Claude [1862-1918]
Gigues - from Images for Orchestra
BBC Philharmonic, Juanjo Mena (conductor)
4:39 AM
Bach, Johann Sebastian [1685-1750]
Toccata in G major BWV.916 for keyboard
Jason Gillham (piano)
4:47 AM
Gibbons, Orlando [1583-1625], Walton, William [1902-1983]
Drop, Drop, Slow Tears (2 settings by Gibbons and Walton)
Gabrieli Consort, Paul McCreesh (director)
4:53 AM
Britten, Benjamin [1913-1976]
Nocturnal after John Dowland Op.70 for guitar
Sean Shibe (guitar)
5:11 AM
Saint-Saëns, Camille (1835-1921)
Cello Concerto No.1 in A minor (Op.33)
Jozef Podhradský (cello), Slovak Radio Symphony Orchestra in Bratislava, Oliver Dohnányi (conductor)
5:31 AM
Beethoven, Ludwig van (1770-1827)
Five Scottish and Irish Folksongs (WoO.152/20) (1. The Wand'ring Minstrel; 2. I dream'd I lay where flowers; 3. The Elfin Fairies; 4. Charlie is my darling; 5. Farewell Bliss, and Farewell Nancy)
Stephen Powell (tenor soloist in No.1), Lorraine Reinhardt (soprano soloist in No.3), Linda Lee Thomas (piano), Gwen Thompson (violin), Eugene Osadchy (cello), Vancouver Chamber Choir, Jon Washburn (conductor)
5:46 AM
Rameau, Jean-Philippe (1683-1764)
Le Temple de la Gloire - orchestral suites from the opera-ballet (1745)
Tafelmusik Baroque Orchestra, Jeanne Lamon (conductor)
6:16 AM
Brahms, Johannes (1833-1897)
Hungarian dances for piano duet (Nos.1; 11; 13; 17; 8)
Noël Lee and Christian Ivaldi (pianos).