Main content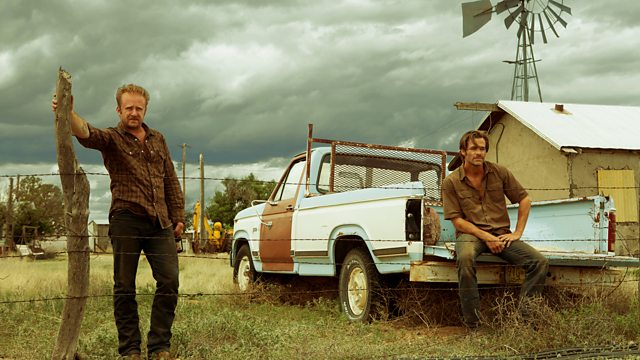 Hell or High Water, Nick Cave & the Bad Seeds, Aravind Adiga
Reviews of modern-day western Hell or High Water, Nick Cave's new album, and Aravind Adiga on his latest novel Selection Day, a story of cricket and social division in India.
Chris Pine, Ben Foster and Jeff Bridges star in Hell or High Water, a modern day western and thriller from director David Mackenzie. Film writer Mark Eccleston reviews.
Nick Cave & the Bad Seeds' 16th studio album, Skeleton Tree, is released today, alongside One More Time With Feeling, a filmed performance of the album interwoven with interviews and narration. Both works were completed after the death of Cave's son last year. Novelist and critic Matt Thorne reviews.
Indian novelist Aravind Adiga, who won the Man Booker Prize for The White Tiger in 2008, discusses his latest book Selection Day, about two young brothers in Mumbai and their controlling father whose lives are focused on securing places in a leading cricket team.
The National Gallery has been asked by the grandchildren of Matisse's muse Marg Moll to return a painting they claim was stolen from their family in the aftermath of World War Two. Their lawyer David Rowland explains why they want it back.
With the announcement this week that Apple is dropping the universal 3.5mm jack from its new phones, writer Ben Wardle reflects on the popularity, the history, and the potential demise of the music fan's small silver friend.
Presenter: John Wilson
Producer: Angie Nehring.
Chapters
Hell or High Water

Duration: 04:45

Nick Cave & the Bad Seeds

Duration: 08:00

Aravind Adiga - Selection Day

Duration: 06:59

The portrait of Greta Moll

Duration: 05:00

The demise of the universal headphone jack?

Duration: 03:39

Hell or High Water

Hell or High Water is in UK cinemas on 09 September 2016, certificate 15.

Images - main image above and smaller one to the left: Ben Foster as Tanner (Left) and Chris Pin as Toby (Right)  in Hell or High Water 

Nick Cave & the Bad Seeds

Aravind Adiga

Aravind Adiga's book Selection Day is out now in hardback, published by Macmillan.

Image: Aravind Adiga

Image credit: Fernando Morales

The portrait of Greta Moll

Image: Portrait of Greta Moll, 1908  by Henri Matisse

Image credit: The National Gallery

The demise of the universal headphone jack?

Image: the standard 3.5mm headphone jack

Credits

| Role | Contributor |
| --- | --- |
| Interviewed Guest | Mark Eccleston |
| Interviewed Guest | Matt Thorne |
| Interviewed Guest | Aravind Adiga |
| Interviewed Guest | David Rowland |
| Interviewed Guest | Ben Wardle |
| Presenter | John Wilson |
| Producer | Angie Nehring |