Main content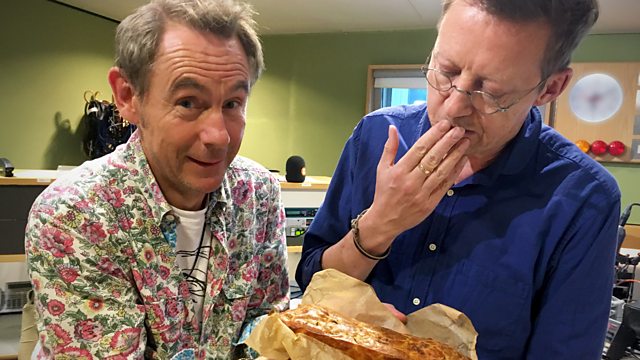 Foodie Thursday
Resident cook Nigel Barden serves up a dish for Foodie Thursday.
Last on

Savoury Cheese and Olive Cake with Chilli and Smoked Paprika
by Paul Merrett from Spice Odyssey (Kyle Books)
"This is a quirky yet useful recipe.  Quirky because cakes should be sweet and made with fruit or chocolate and definitely cream, not stuffed full of olives, spices and cheese; useful because it is a really quick, simple and tasty alternative to homemade bread.  You can knock this up in under an hour minus all the hassle of bread making.  It's great served warm with unsalted butter, just as you would a fresh loaf of bread, or serve it with sliced charcuterie or a smoked fish pâté, or topped with a salad of beetroot, watercress and goat's cheese".
Makes 1 Loaf
Prep time 20 mins
Cooking time 45 mins + 20 mins cooling 
Ingredients
4 free range eggs
150ml dry white wine
150ml olive oil
250g plain flour
1 tsp baking powder
1 tsp smoked paprika
pinch of chilli flakes
pinch of salt
180g pitted green olives, drained and each one sliced into 3 rings
110g sun-blushed tomatoes, drained if very oily and cut into 3 pieces
140g mature Cheddar, grated (any hard cheese would work)
Method
I usually knock this up in an electric food mixer but the process is exactly the same and almost as quick by hand.

Mix the eggs, wine and oil – the beater attachment of the mixer is best, or use a wooden spoon if making by hand.  Tip in the flour, baking powder, smoked paprika, chilli flakes and salt and again beat the mixture enough to incorporate everything. Fold in the olives, tomatoes and grated cheese by hand.  Bake in a lined loaf tin at 170C/gas mark 3½ for 45 mins.   Allow to cool in the tin for 10 mins and then turn out onto a wire rack for a further 10 mins to cool. Serve whilst fresh and warm or store in an airtight container for up to 3 days and warm gently before serving. 
Broadcast