Main content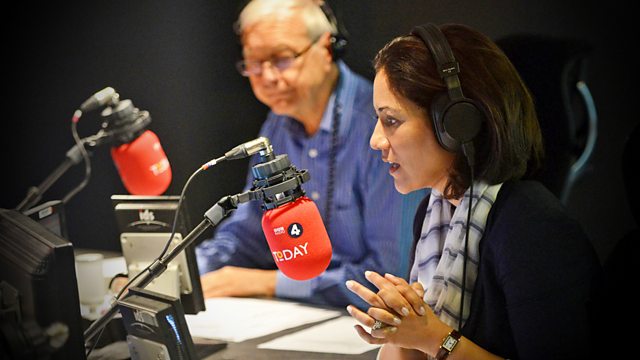 24/08/2016
Morning news and current affairs. Including Sports Desk, Weather and Thought for the Day.
Today's running order
All subject to change:
0650
Civil Nuclear Police protect nuclear power stations like Hinkley Point and can be called to assist in emergencies like the Cumbrian floods. Today its federation goes to the High Court to seek a ruling that its members can retire at 60, the same retirement age as the rest of the UK Police service. Nigel Dennis is chief executive of the federation and serving civil nuclear police officer.
0655
City & Guilds is releasing findings of a survey which shows young people are facing a "career lottery" based on where they live, hampering social mobility and exacerbating the North / South divide. Kirstie Donnelly is managing director of City & Guilds.
0710
Virgin Trains has taken issue with Jeremy Corbyn after he circulated a video sitting on the floor of a service and claiming it was "ram-packed". Sam Tarry is campaign director for Jeremy Corbyn's campaign to be re-elected as leader of the Labour Party.
0715
The annual figures for the Government Expenditure and Revenue Scotland report will be published later this morning. Sarah Smith is the BBC's Scotland editor.
0720
A worldwide ban on plastic microbeads in cosmetics should be imposed as soon as possible, MPs have demanded. Tamara Galloway is professor of ecotoxicology at Exeter University.
0730
The US Vice President Joe Biden is expected to meet the Turkish President Tayyip Erdogan and the Prime Minister Binali Yildirim. Mark Lowen is the BBC's Turkey correspondent and Dr Lina Khatib is head of the Middle East and North Africa programme at Chatham House.
0740
As we enter the next stage of human development, the biotechnical revolution, what is the future for mankind? Yuval Noah Harari is an Israeli historian and author of Homo Deus: A brief history of tomorrow. 
0750
A police officer who served for 20 years has sued the Metropolitan Police because it unlawfully misused police powers to obtain details of where she and her daughter had been on holiday. We speak live to the former detective constable Andrea Brown.
0810
Owen Smith has said he will try to stop Theresa May triggering official EU exit talks unless she offers a referendum on the final Brexit deal or agrees to call a general election to approve it. We speak live to Mr Smith.
0820
Sir Antony Jay, the co-writer of TV political comedies Yes Minister and Yes, Prime Minister, died on Sunday aged 86 after a long illness. Jonathan Lynn co-wrote Yes Minister and Yes, Prime Minister with Sir Antony Jay and Conservative politician Lord Michael Dobbs is writer of the original House of Cards.
0830
It is a quarter of a century since the breakup of the Soviet Union. There will be no official celebrations in Moscow. Daniel Baer is the US Ambassador to the Organization for Security and Cooperation in Europe and Tom Burridge is the BBC's correspondent in Kiev.
0835
Virgin Trains has released CCTV showing Jeremy Corbyn walking past empty unreserved train seats before he was filmed sitting on the floor complaining about "ram-packed" carriages. Julian Glover is former special adviser to PM David Cameron and Polly Mackenzie is former Lib Dem policy adviser at Number 10 during the coalition.
0840
On Tuesday's programme we covered the IFS report which showed that the gender wage gap grows year on year after childbirth, with the gap reaching as much as 33% after 12 years. One of the potential solutions for women who want to stay in employment while raising children is job sharing, where two employees share a full-time role. But does it work in practice? Anushka Asthana job shares the role of political editor at the Guardian with Heather Stewart and Anne Mcelvoy is senior editor at the Economist.
0850
The Great British Bake Off is back tonight. Ali Imdad is a contestant on series four of the show and Deirdre Critchley quit her job in the City to start a jam-making business - and then gave it up.